World Cup
World Cup disappointment not fully indicative of state of African football - Ghana coach Appiah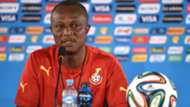 Ghana coach James Kwesi Appiah believes the underwhelming display of African teams at the World Cup does not fully reflect the development of the game on the continent.
At the ongoing showpiece in Russia, Africa has no representatives in the knockout stage following the group stage elimination of all five teams. 
Nigeria, Senegal, Morocco, Egypt and Tunisia played in the name of the continent.
"It [was] a difficult campaign for African teams and we can't run away from that," Appiah told KweseESPN.
"With five teams, you would have expected at least one [to make it] through.
"For the continent, it is just not good but you can't judge football on the continent solely by a difficult tournament in Russia.
"There is no African team in the next round but the margins were very small. Nigeria gave everything and left the tournament with their reputation intact.
"Morocco impressed and you can make the case that maybe they were unlucky and Senegal are heading home with four points because of yellow cards so the little details for many of the African teams have."
It is the first time since 1982 that Africa has failed to get a representative in the knockout stage. 
"If you look at the way many of the African teams have gone out to late goals, it is obvious that there is an issue with concentration in key moments that have to be addressed," Appiah added.
"There were also too many goals conceded from set pieces, which means for us coaches on the continent, these are areas to work and improve on."
Africa's best performance since debuting at the World Cup in 1934 has been quarter-final berths by Cameroon, Senegal and Ghana in 1990, 2002 and 2010 respectively.