African All Stars
Wilfred Ndidi must follow in N'Golo Kante footsteps to find fulfilment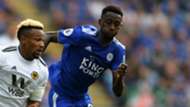 ---
COMMENT    By Solace Chukwu    

Follow on Twitter
---
If Wilfred Ndidi sees out his newly inked Leicester City contract, he will have been with the Foxes seven whole years.
Of course, in the age of player power, contracts count for very little and, as impressive as a six-year extension sounds, there cannot be any serious expectations that he will stick around that long. His star is simply too bright, his skillset much too useful.
It has been impressive to observe just how quickly he has become a part of the furniture at the King Power Stadium. The fact there has been a great deal of upheaval at the club in the last two years makes it even more impressive: on the opening day of this league season, only two of the side that made history in 2015/2016 started at Old Trafford against Manchester United.
In spite of that, and his own youth, he has been largely reliable and consistent in his performances, and is spoken of in the same breath as some of the league's most effective midfield performers. His new contract, reportedly signed under the lustful gaze of much bigger clubs, reflects this.
Yet, viewed cynically, it may simply have been a shrewd financial play on the Foxes' part. It was only in January that European champions Real Madrid dallied over and ultimately passed on a sub-£20 million move for Kepa Arrizabalaga. Seven months later, he is the most expensive goalkeeper in history, having signed a new contract, including a dizzying release clause, with Athletic Club right afterwards.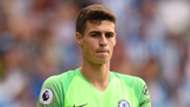 There is no clause in Ndidi's new deal, but the idea remains just as prudent: at some point, probably soon, Leicester will lose the player. One does not simply out-tackle the entire division, the ubiquitous N'Golo Kante inclusive, without drawing any attention.
Indeed, a move away would be the logical next step in the development of the 21-year-old, who would do well to avoid being typecast simply as a ball-winner to his own detriment. Having spent parts of his brief career so far playing both at centre-back and full-back, there is the feeling that he has a few more gears. If he needs any inspiration in that regard, he should look no fUrther than the man he was brought to England to replace.
There was a time, during Leicester's title-winning season, when the common refrain surrounding Kante was that he would be unsuited to a more expansive style.
Wilfred Ndidi | 2017-18 Premier League stats
The tenacity, intensity and uncanny anticipation that propelled him around the pitch was admirable, but it wasn't enough. Midfielders in the modern game, the argument went, needed to be more than simple ball-winners.
A part of that argument is true. Football does demand more of the midfielder in this era. Where it faltered though was in its conclusion, not its premise: Kante has excelled even outside the peculiar confines of Leicester, both at club and international level.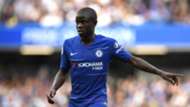 The inference is simple: it is impossible to tell what a player (or an individual, for that matter) can do until they actually have to.
Under Maurizio Sarri, Kante is now being tasked to fulfill a more attacking role, seeking to make runs into the box and latch on to deliveries from wide and deep.
There is some evidence that Ndidi has such a transformation in him, perhaps even more so than Kante. Though infrequent, he has an impressive collection of belters from range, indicating his strong technique. He is also obviously a more towering presence to meet crosses, and would be almost unstoppable arriving with momentum from deep.
However, for a side like Leicester, Ndidi is much too important to their ability to simply compete in the middle of the park for him to work on other facets of his game. That really is the danger with staying put, and while he is doubtless grateful for his reception and his quick rise to cult status with the supporters, he cannot afford to stay too long.
We will never know how much more rounded he can become if he is content with being Leicester's midfield janitor and fire extinguisher. Neither, sadly, will he.