Premier League
Why Pep is interested in signing his former Barcelona hero Valdes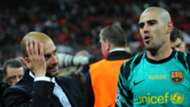 ---
COMMENT
---
Victor Valdes is an option for Manchester City, and not for the first time.
Who is Man City's Player of the Season
The goalkeeper nearly signed for the club at the very start of last summer, shortly after he left Manchester United having been frozen out by Louis van Gaal.
Pep Guardiola was yet to meet Joe Hart and explain his requirements for the goalkeeper position, but he was already keen to link up with Valdes, who proved to be archetypal ball-playing goalkeeper during his time with Guardiola at Barcelona.
But City also had their eye on one of Barca's current goalkeepers, Marc-Andre ter Stegen, and as the move dragged on Guardiola could not assure Valdes he would play every week.
Valdes wanted first-team football again after recovering from the serious knee injury which ended his Barca career, only to play just two senior matches in 18 months at United and being loaned to Standard Liege, a deal which was cancelled early.
Aitor Karanka offered Valdes the No.1 spot at Middlesbrough and, with Guardiola still waiting on the outcome of City's bid for ter Stegen, it proved decisive.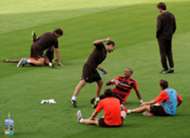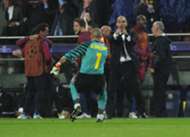 There is surely a part of Guardiola that regrets it to this day. Hart refused to change his game, Barca refused to sell Ter Stegen, and Claudio Bravo, as a back-up option, was eventually signed. Guardiola would've wanted Ter Stegen and Valdes. In the end, he got Bravo and Willy Caballero.
Caballero has improved his game this season, particularly his kicking, but that may not be enough to save him. His contract ends in July and he appears unlikely to get a new one.
Bravo's first season in England has been testing to say the least, and City are once again in the market for goalkeepers. Valdes, once again, is available on a free transfer as he has a relegation clause in his Boro contract.
It is not believed that any talks have taken place so far, but he is as much of a viable option as anybody else City have got their eye on, and in many ways he would be the best bet.
Man City team news & likely line-up
Everton appear to have enticed Jordan Pickford from Sunderland by offering first-team football, which suggests there are no such guarantees at the Etihad. It suggests Bravo will be given every chance to assert himself as the No.1 Guardiola expected him to be in the first place.
There are other English keepers said to be of interest, including Stoke City's Jack Butland and, bafflingly, Fraser Forster. The Southampton No.1 is very much in the Hart mould and it would make little sense to go down that route.
City can buy 24-year-old Argentine Geronimo Rulli back from Real Sociedad but there does not seem to be much appetite to trigger the €22 million clause just yet, given Bravo's struggles.
It is a similar story for Ederson, the 23-year-old Brazilian. Benfica would only receive 50 per cent of his transfer fee, which partly explains why the Portuguese press are saying it would take least £30 million to sign him.
City will spend big this summer but they could do with funnelling their funds elsewhere, given the type of targets they have identified in other positions. The likes of Kyle Walker, Alex Sandro, Benjamin Mendy, Kingsley Coman and Alexis Sanchez do not come cheap.
And with Bravo struggling unexpectedly, a goalkeeper who is both cost-effective and who knows the lay of the land would be ideal.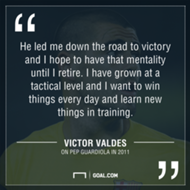 Valdes was hardly given a chance to shine his time at United, and the Liege loan did not work out, but he has used this season to re-establish himself, even if Middlesbrough have been relegated.
Having barely played in more than two years he proved his ability and his character at the Riverside Stadium, and both traits are coveted by City.
Guardiola has spent much of the last couple of months insisting his team need more winners, more big characters, and Valdes fits the bill. As much as he is perfect for the style of play, he has a winning mentality that few, if any, current City players can match.
How Chelsea can profit from Juve success
And should he sign he would put just about the right amount of pressure on Bravo. He is not so high profile that Bravo would know he had been relegated to No.2, which could ruin his confidence completely. But the Catalan does have enough quality, and the right mentality, to force the Chilean to up his game. The better man will end up in goal.
Should things go wrong — say Valdes struggles with injury and Bravo does not shake off the errors — then City would certainly be in a pickle.
But there are no guarantees any of the other goalkeepers on City's radar would fare any better, given they are either young, have not played in England before, or both.
Valdes ticks too many boxes to ignore. He may well have other offers on the table — there may even be a vacancy or two back at Old Trafford.
But from City's point of view it makes a lot of sense. He would battle for the No.1 shirt, is free, has incredible character and knows the Premier League. On top of all of that he is the perfect Guardiola goalkeeper. How many can say that?