Arsenal
Who is Sven Mislintat? Arsenal's chief scout behind Aubameyang & Mkhitaryan deals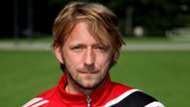 In November 2017, Arsenal appointed a new chief scout, with Sven Mislintat taking over at the club after 10 years with Borussia Dortmund.
The German sport scientist has already had an impact at the Emirates, bringing in new players during the January transfer window including names he had assessed and worked with during his time with the Bundesliga club.
Henrikh Mkhitaryan was brought to Dortmund from Shakhtar Donetsk in 2013 before moving to Manchester United three years later. The Armenia attacker was inconsistent at Old Trafford, but on Mislintat's advice has joined the Gunners where he can regain the form he showed with BVB.
Pierre-Emerick Aubameyang is set to arrive at Arsenal before the deadline closes, and is another player that Mislintat has scouted, having recommended the Gabon international to Dortmund when he lined out for Saint-Etienne in Ligue 1. He has scored 98 times in 144 Bundesliga games, and is set to bring that firepower to the London club.
But who is Arsenal chief scout Sven Mislintat? Goal investigates the German's career, controversies and the talent he has found so far for Borussia Dortmund and Arsenal.
---
Mislintat's career and early life
---
Born in 1972 in the north-western German town of Kamen, Mislintat played football for VfL Kamen and SV Holzwickede before becoming Jose Morais's assistant coach at Oberliga club Westfalia Herne in 2002. Morais spent just four months in charge, but later went on to become Jose Mourinho's assistant manager at Porto, Real Madrid and Chelsea.
After completing his sports science degree at Ruhr-University Bochum, Mislintat was initially hired by Borussia Dortmund as a scout in 2006, but quickly worked his way up through the ranks at the Westphalia club thanks to his knack for finding talent and his meticilous methods.
One of his early successes at Dortmund was finding Japanese attacker Shinji Kagawa, who had spent the first few years of his career playing in the second tier in his native country with Cerezo Osaka. Kagawa helped Osaka to promotion, but played just 11 times in the J.League Division 1 before Dortmund snapped him up for a bargain price of €350,000.
Mislintat had been the driving force behind Kagawa's move to BVB, revealing how he had extensively monitored the attacking midfielder through repeated visits to the Far East: "We were in Japan six times, did 10 to 15 pieces of video analysis just from that player," he told reporters in 2012. "And once we completed our job, we were convinced that he's a player we can use, especially for this price."
Despite an injury in his debut season in Germany, Kagawa was phenomenal for Dortmund, helping them lift the Bundesliga trophy as well as being named in the Bundesliga Team of the Season. He helped them to the double the following year before being sold to Manchester United for €16 million.
The successful signing of Kagawa helped increase Mislintat's profile at Dortmund, and his knack for finding unheralded and relatively inexpensive talent saw him promoted to chief scout. He spent a decade at BVB before moving to Arsenal in November 2017 to replace Steve Rowley, who had been the Gunners' chief scout for 25 years.
---
Players Mislintat has found
---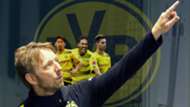 Kagawa was just one of many success stories Mislintat had while at Borrusia Dortmund. The 46-year-old was credited with unearthing a lot of stars for the club, which earned him the nickname 'diamond eye'.
Mats Hummels and Robert Lewandowski were two of his biggest scouting coups, with Hummels brought to Dortmund initially on loan and then for just €4m from Bayern Munich. The defender had played just one Bundesliga game for Bayern and was not rated by managers Felix Magath or Ottmar Hitzfeld - or chairman Franz Beckenbauer - and was allowed to leave for a paltry fee. Mislintat spotted raw talent in the centre-back, who went on to make over 300 appearances for the club, win two Bundesliga titles and play in the Champions League final.
Lewandowski also played in the 2012-13 Champions League final having been signed from Polish club Lech Poznan for just €4.5m in 2010. He scored just eight league goals in his first season as he adjusted to the Bundesliga, but surpassed 20 goals in each of the next three campaigns before moving to Bayern Munich.
Another Pole, Jakub Blaszczykowski, was brought in early in Mislintat's career at Dortmund, joining in 2007 from Wisla Krakow for around €3m. The player nicknamed 'Kuba' was fantastic on the wing for BVB and was a key part of the 5-2 DFB Pokal final win over Bayern Munich in 2012 with two assists. Following this, UEFA shortlisted him as one of the best players in Europe.
Many of the players recommended by Mislintat became key parts of the Dortmund squad, with Serbian defender Neven Subotic and German midfielder Sven Bender both playing over 200 games for the club after being signed from lower tier sides.
Before leaving for Arsenal, the chief scout was approached by Bayern Munich to become technical director and was also wanted by Stuttgart, Hamburg and Hannover. His ability to make a large profits for clubs was hugely sought after, and one of his last brilliant moves for Dortmund was to turn a €90m profit in a year on Ousmane Dembele. The German side brought in the French attacker from Rennes for €15m in 2016 and sold him to Barcelona a year later after just 50 games for BVB.
Mislintat has already made an impact at Arsenal, finding Greek defender Kostas Marvopanos for just €2.5m playing for PAS Giannina. The 20-year-old was expected to leave on loan but impressed Arsene Wenger in training and was kept as part of their squad for the second-half of the Premier League season.
---
Controversies surrounding Mislintat
---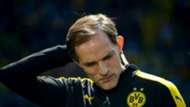 Mislintat's time at Dortmund was a mostly positive one, with the chief scout proving hugely popular at Westfalenstadion. When he left for Arsenal, sporting director Michael Zorc lamented the move: "Sven Mislintat has been my closest colleague for 10 years, and we have developed a close bond of trust between us and BVB."
However, during Thomas Tuchel's tenure as head coach, the pair had a series of arguments which originated when Tuchel pushed against the signing of a player Mislintat had recommended to the club. The scout urged BVB to sign midfielder Oliver Torres who was then at Atletico Madrid, but Tuchel was not interested in the Spain Under-21 international, who has since joined Porto.
Tuchel also did not like how involved Mislintat was on a day-to-day basis with the players at the club and had him banned from their training ground in Brackel. "I would probably never have come up with the idea of ​​engaging with other clubs and offers, if not for what had just happened," Mislintat told Reviersport .
"The ban initiated by the former coach to enter the training grounds and the clear instruction to keep me away from the inner circle of players and the staff, including many friends with whom I have worked closely for years, has had a decisive impact on my thinking."
Although Tuchel left Dortmund at the end of the 2016-17 season, Mislintat's head was also turned, and he urged Zorc to accept Arsenal's offer in November 2017, with the German club receiving €2m in compensation.