Manchester United
Who is Mason Greenwood? Introducing the 16-year-old star turn of Man Utd's academy title win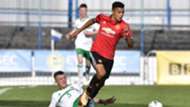 Having won the Northern Section of the Under-18 Premier League, Manchester United will soon face off with Chelsea for the national title at academy level. And don't be surprised if Mason Greenwood is the name on everybody's lips when the final is over and done with.
Still only 16 but with talent pouring out of him, Greenwood has become the focus of many people's hopes for United at youth level following his rise to prominence this season. The youngster has not just bagged 17 goals in 19 appearances for Kieran McKenna's under-18 side this season but has consistently dazzled in doing so.
It has been a natural progression of sorts for a player who was the stand-out performer in the under-16s tour to Hong Kong last year under the watchful eye of Academy phase coach Neil Ryan.
With a wonderful left foot and a right to match, Greenwood's mesmerising close control has been the star attraction on the academy circuit this term, and his performances as a centre-forward or as a number 10 have been impressive in equal measure.
To say he will not turn 17 until October and is therefore much younger than the vast majority of his contemporaries at under-18 level, his stature is one of a player much further down the progression pathway than his age would have you believe. He is tall and strong for a 16-year-old, and his ability to tie older defenders in knots speaks to his wonderful adeptness for displaying maturity under pressure. Such ability helped him to be named as one of 10 Man Utd youngsters to watch earlier in 2018.
A run of nine goals in five games between February and April helped United to peak during the run-in to the league season, and there were a number of assists thrown in for good measure. Having netted a hat-trick in the 6-1 win over Wolves in October, he added two more in an identical victory against West Brom in March.
That came after a brace in his previous outing against Everton, and he would score two more crucial goals in the 3-2 win at Middlesbrough which took United to the verge of the northern title. And last week he featured heavily as the Reds outperformed Manchester City, winning 2-1 to make certain of their place in the national final.
Besides his successes at league level he also starred in the Dallas Cup tournament in March, netting four times and adding one assist in four games as United made it to the semi-final in Texas.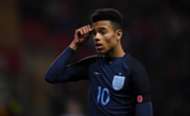 Greenwood has also excelled at international level, making six appearances for England's under-17s over the course of the season.
First he came off the bench to help turn the tide as the Three Lions came back from 2-0 down to beat Portugal in November, then three days later he netted the winner against Russia before starring as a number 10 in the 2-1 success against Germany in Rotherham to cap a busy week. And in February he was again a key part of England's line-up in the Algarve Tournament in Portugal.
While the likes of Tahith Chong and Angel Gomes have made headlines thanks to their progression over the past couple of years, with the latter having made two short substitute appearances at first-team level, there are some who credit Greenwood as being an even greater prospect.
Time will tell how Greenwood develops but for now he continues to tear up the under-18 age group, leaving United fans drooling at the potential he could grow to fulfil.