World Cup
What a Messi! Caballero clanger sums up Sampaoli's shambolic Argentina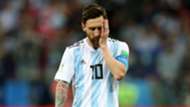 This was not supposed to happen. Despite only qualifying for the World Cup in the final game of their South American qualifiers last year, Argentina still looked like being among the teams with a chance of lifting the trophy in Russia. But not now.
Jorge Sampaoli's side should have beaten Iceland in their opening match, but came up against a wall of defenders in Moscow. Chances came and went and, to make matters worse, Lionel Messi missed a penalty.
Against a Croatia side with much more ability in midfield and attack, the Albiceleste were expected to benefit from more spaces in their second match in Nizhny Novgorod on Thursday, with Sampaoli making changes to his line-up.
Sampaoli switched to a three-man defence and picked Enzo Perez – a player initially left out of his World Cup squad altogether until Manuel Lanzini's serious injury – in midfield. But Argentina still lacked ideas against a Croatia side seemingly set up for a draw after they had beaten Nigeria in their first game.
Perez missed an open goal in a first half which also featured a wayward header at the other end by Mario Mandzukic. And worryingly for Argentina, Sergio Aguero failed to touch the ball in the final 21 minutes of the opening period as Messi faded as well.
Half-time should have been the moment for Sampaoli to freshen things up, but he did not and instead, a complete collapse ensued in the second half. Even if some supporters had feared Croatia, nobody will have expected what followed.
Willy Caballero's calamitous error gifted a golden chance to Ante Rebic, who volleyed home in spectacular style. The Chelsea goalkeeper has been one of the more controversial Sampaoli selections and, having made mistakes in the 6-1 friendly loss to Spain in March, then against Iceland on Saturday, his inclusion was perhaps a disaster waiting to happen.
Sampaoli will take the heat for this and it was not only Caballero. Argentina's shape was ragged, with Javier Mascherano off the pace now at this level and the three-man back line leaving the defence exposed in wide positions.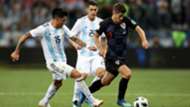 It also gave the spaces to Argentina's least talented players, with Angel Di Maria – a player in theory ideally suited to this system – left out of the side altogether and the team crying out for the creativity of Ever Banega.
On top of all that, Messi does not feel at his most comfortable in a 3-4-3 because he feels it limits his movements and deprives him of the spaces in which he likes to operate. He had told that to his coach, too, and it goes some way to explaining his lack of influence here. The game passed him by.
Messi, who before kick-off had looked like the world was on his shoulders, had a night to forget. Not that any of Argentina's team can claim that they played well and Otamendi's failure to close down Luka Modric gave the Real Madrid midfielder room to fire in a lovely long-range effort which Caballero could not keep out.
Later, Croatia virtually walked the ball in for a third goal scored by Ivan Rakitic which leaves Sampaoli's shambolic side heading for a humiliating first-round exit in a tournament they had hoped to win.
Quite what has happened to a coach considered among the world's best after his successful spells with Chile and Sevilla, and his much-hyped plans of finding a way for Messi to thrive like he does at Barcelona, is difficult to say.
But there is unlikely to be any way back from this now because even if Argentina can muster the spirit to beat Nigeria and somehow sneak through to the last 16, this team appears psychologically shot.
It may well be the end of the road for this great generation of players and for the coach, it almost certainly will be.