Premier League
West Ham manager Bilic still furious at Arnautovic over red card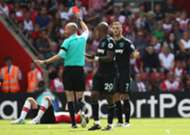 West Ham manager Slaven Bilic said on Tuesday that he was still angry at Marko Arnautovic over his red card against Southampton on Saturday. 
Arnautovic was sent off in the 32nd minute of the Premier League encounter for a forearm blow to Saints defender Jack Stephens.
West Ham 9/4 to beat Newcastle
Despite Javier Hernandez's two goals, West Ham would go on to lose the match at St. Mary's by a 3-2 scoreline. 
Bilic raised his voice and banged the table as he spoke about the incident in a press conference on Tuesday. 
"You can't do those kind of things," Bilic said. 
"I am fuming, still now – you can feel. I am fuming, but it happened. But no more. Not him, not anybody else. I am confident the message got through.
"The players, they know and they can't let the team down and also of course him. And whoever does those kind of things will get the fine, of course. He will get fined."
Arnautovic, a club-record signing from Stoke in the off-season, must now serve a three-game ban for the straight red card. 
"He was angry at himself. He still is. He regrets it, so he is angry at himself. But he can't do it any more," Bilic continued. 
"We had a chat. He said he is sorry, and he apologised, I don't know, three or four times – on social media, here, in front of the whole team, on the bus, in the dressing room, everywhere. 
"I said, 'Yes, it is nice.' Of course it is nice, but you can't do that. That's it."