African All Stars
'We're on the right track' - Algeria coach Rabah Madjer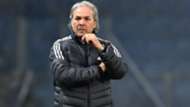 Unfazed by several criticisms levelled against his team, Rabah Madjer insists Algeria 'are on the right track'.
After a failed 2018 World Cup bid, Madjer replaced Lucas Alcaraz in October, thus, becoming the Desert Foxes' fifth coach in three years.
And despite the improvement in the team, his side have come under criticism.
The loss against Iran in their recent friendly game on Friday stands as the only defeat in the four games the ex-international has overseen, with two coming as wins and his opener against Nigeria ending in a stalemate.
The former African Player of the Year winner maintains there is unity in his squad as opposed to reports and that they will continue to work hard
"There is no problem with or between players. This is the exact opposite of what has been said on the right or on the left," Madjer told Goal.
"Really, it's amazing! There is a very good atmosphere in the changing room. I confirm it. That's the strength of our selection and that's why we won games. We are on the right track and I hope it will continue like this.
"I lost against Iran; a match that I normally don't lose. But you can see that Argentina took six against Spain. Portugal took three against the Netherlands. There, I lose only 2-1 and then I would have deserved at least a draw.
"But I'm proud of these players and this team. And, I repeat, we will continue to work. We are doing it right now, and the conditions are difficult. You must have seen the media campaign against the players and myself. But, we do not pay attention to that."