Arsène Wenger
Wenger Out: The anti-Arsene at Arsenal signs appearing around the world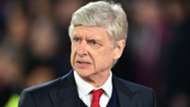 With a month remaining in the English season, we still know little about Arsene Wenger's plans beyond the end of the current campaign.
There has been overwhelming calls for the Frenchman to step down among Arsenal fans as another year at the Emirates Stadium has descended into crisis, with even their regular top-four finish now looking beyond them.
Wenger: I'm looking at transfer targets
Many fans have had enough - and they do not just live in London. Since the first 'Wenger Out' banners began appearing at Arsenal matches they have spread around the world and popped up in often hilarious circumstances, being hoisted at everything from weddings to wrestling events.
From Canada to Kenya, here are the best calls for 'Wexit' around the world.
---
BANGKOK, THAILAND
---
SPOTTED: #WengerOut banner makes it to a Coldplay gig in Bangkok.
( @jaik_singh) pic.twitter.com/9UYJSbetvS

— SPORF (@Sporf) April 9, 2017
---
TORONTO, CANADA
---
A wild #WengerOut sign appears in Maple Leaf Square pic.twitter.com/g9bS8s84Du

— Jeff Veillette (@JeffVeillette) April 24, 2017
---
INDIA
---
@Arsenal even Indian fans protesting their way in an IPL cricket match....lol #wengerout pic.twitter.com/PopIFww0OD

— Ayanangshu (@chandaninnet) April 5, 2017
---
BALTIMORE, USA
---
Wenger out sign at the Sox vs. Orioles Certainties in life are death, taxes and #wengerout signs @MenInBlazers @BleacherReport pic.twitter.com/JczaeEpkmj

— Parin Patel (@parin03) April 22, 2017
---
MOUNT RINJANI, INDONESIA
---
3726m up, surely the highest place for Mr Wenger. #Wengerout #Arsenal #Gooners #arsenwenger #mountrinjani pic.twitter.com/CINrrW4cnb

— Kurosh Bond (@KuroshBond) April 18, 2017
---
LEAGUE OF LEGENDS CHAMPIONSHIP SERIES (CANADA)
---
Wenger out spotted at NA LCS Final #WengerOut hahahaha pic.twitter.com/6tc5QBiiD7

— Gav (@GavBRFC) April 23, 2017
---
NEW YORK CITY, USA
---
Thanks for the memories Arsene but it's time. #WengerOut @ladbible @ArsenalFanTV pic.twitter.com/GsgNnxeVpP

— I.S.G (@ImranSG_) April 20, 2017
---
REPUBLIC OF IRELAND
---
#WengerOut RTE news in Ireland #afc #COYG pic.twitter.com/YBZ4Jza8Xf

— Barry Carroll (@Goonerbar) April 15, 2017
---
A WEDDING
---
Health & Happiness to you both #NoNewContract #WengerOut pic.twitter.com/u6ypKqwuCK

— #WengerOut (@NoNewContract) April 15, 2017
---
SRI LANKA
---
Where next? #WengerOut banner spotted at a cricket match in Sri Lanka pic.twitter.com/ObAbOEGXMo

— Freebets.co.uk (@freebetscouk) April 5, 2017
---
ETHIOPIA
---
Meanwhile in Ethiopia they didn't do the job properly! #WengerOut pic.twitter.com/hEin6GKBRe

— Footy Away Days (@FootyAwayDays_) April 15, 2017
---
WWE RAW (COLUMBUS, USA)
---
#WengerOut spotted at WWE Raw last night! pic.twitter.com/7xSX3oc1oS

— Footy Away Days (@FootyAwayDays_) April 18, 2017
---
NAIROBI, KENYA
---
Like I said.... Had to make sure the #WengerOut brigade was represented at #DiploinKenya 's concert last night. Get him out! pic.twitter.com/6dryOLTTXp

— Pierre (@petersize10) April 15, 2017
---
NAPIER, NEW ZEALAND
---
All the way from napier NZ #WengerOut pic.twitter.com/lpA81yZoVJ

— Naenae (@reneenae83) April 15, 2017
---
COACHELLA (CALIFORNIA, USA)
---
Even the Coachella hipsterati get it #wengerout pic.twitter.com/1I8LkYsP8t

— Case_y (@GaryWhoElse) April 15, 2017
---
MALTA
---
Thank you @heyitsbettinaa for this, live from #LostAndFound in #Malta! #wengerout #wenger #afc #arsenal #retweet #wexit #arsenalfc #gazidis pic.twitter.com/swilZzmVfQ

— Lew (@OzilsLeftFoot27) April 15, 2017
---
AND, OF COURSE... LONDON
---
Good turnout by @NoNewContract #wengerout pic.twitter.com/aNC9TgGSMB

— Doublegooner (@Doublegooner) April 15, 2017
Where will the next one be?