Premier League
Wenger has strong support from fans - Arsenal's transfer fixer Law reveals manager backing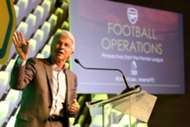 Arsenal's director of football operations Dick Law has revealed that Gunners boss Arsene Wenger still has the strong backing of the board and opened up about what his own role entails.
Law, who replaced David Dein as Arsenal's chief negotiator in 2009, has been linked with a possible departure from Arsenal this summer, although Goal understands that there are no plans for the American to leave the club.
Wenger's future is also uncertain as the long-serving Arsenal boss has yet to make a decision on whether he will sign a new contract against a backdrop of fan protests calling for him to go.
But, speaking at a seminar organised by the Brazilian FA, Law confirmed Wenger retains the support of the club's hierarchy following Sunday's 2-0 win over Manchester United.
"He has strong backing from the board, strong support from the fans," said Law. "Now, it is fundamental to think, the biggest critic is him with himself. He wants to win. He suffers when we do not win.
"But right now, I think the results will tell. The game against Manchester United was crucial. The game on Wednesday (away to Southampton) will take another leap up."
Ronaldo odds on for Ballon d'Or
Law's own role has been called into question in recent weeks with protracted contract negotiations between Mesut Ozil and Alexis Sanchez now moved to the end of the season, while a host of first-team stars are also out of contract in the summer of 2018.
Speaking at the Somos Futebol event on football management, Law shared the stage with former Arsenal chairman Dein and ex-Gunners midfielder Edu, who is currently director of football at Brazilian side Corinthians.
The multilingual negotiator explained his role in detail while going into further specifics on the structures of Manchester City and Southampton. 
Goal have taken the best quotes from Law's presentation while you can watch his full talk in the video below.
---
ON THE ROLES OF WENGER, GAZIDIS AND HIS OWN
---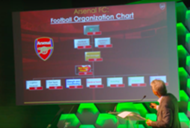 At Arsenal today this is what our organisational chart looks like. We have a unique management structure that reflects the character of the club and its senior management. Our CEO is Ivan Gazidis and he's been actively involved in football starting with playing football at Oxford University. Then he spent 15 years at Major League Soccer, where he first dealt with all the player contracts, before becoming deputy commissioner before coming to Arsenal in 2009.
Szczesny should be Arsenal's No.1
If we come down to the manager, his responsibility is operating every area in football. The logistics report to him, first-team coaches, strength and conditioning, medical team and psychology [departments] all report to the manager. The area that I manage is called football operations. My job is to help the CEO and manager, in conjunction with the contract team, with squad planning, contract negotiations, negotiations with agents, player transfers - either in or out of the club - and coordination with the Arsenal academy. I work very closely with our chief financial officer, our general counsel (the lawyer for the club) and our club secretary in the contract team. Our biggest challenge is to make sure that all the contracts are done right and we follow all the rules set by the FA and FIFA.
---
ON THE EVOLUTION OF FOOTBALL MANAGEMENT STRUCTURES
---
We now have a new area called team performance and this is very important in terms of the team psychology. Are the players up? Why are they up? Looking at players as individuals as opposed to a collective. The communication element for football teams has dramatically changed and it's changing every day. The whole notion of social media, and the impact that it has, is something that we can't get our hands around in the UK and certainly not at Arsenal. All we know is that it's happening, getting bigger and we've got to get our hands around it. 
In terms of the complexity, if we look at strength and conditioning, even as recently as 10 years ago, a holding midfielder (volante) was prepared the same way as a forward, even though the forward requires mini high intensity sprints. If you're going to play holding midfield you've got to have the stamina to run 12 or 13km per match. The difference is, 10 years later, that every player in every position has a specific training regimen - that's a massive shift.
Ronaldo enjoys Ibiza with girlfriend
When you look at team logistics - that's the leasing of aircraft, buses, hotels - we even need to have immigration specialists. In the last five years, we've seen an explosion [in technology]. Every Arsenal player in training has a GPS unit between his shoulders which measures their every movement on the pitch. We can even tell when a player falls down. One hour after training the manager will have the training report on their performance that day. How far they ran, how fast they ran, which direction they ran. This is the result of new technology. Another example on a smaller level is that every parent of an Arsenal academy player will have an app on their smartphone and they can find out when their child has training, which team and who are the coaches and physios. 
---
ON DIRECTOR OF FOOTBALL MODELS IN THE PREMIER LEAGUE
---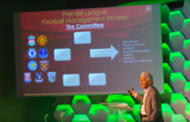 The first model is called the director of football. It's a fairly standard model but it's applied at Man City with a twist. In my opinion, Man City has a strategic objective of building the Man City brand and, when you combine two Premier League titles, Man City's performance has created a platform for success on a global level. They now have a global technical director which helps all the clubs in the City football operations as well as a director of football at Man City who is responsible for the football department.
They have investment at football clubs in the USA, Australia, Uruguay and Japan which means they're present in South America, Asia and Europe. In Manchester the traditional director of football who has control over the entire football department is headed up by Txiki [Begiristain]. He has the advantage of working previously with the CEO of City [Ferran] Sorriano.
It's what I call 'The Committee'. They will be responsible for recruitment, player contracts, transfer negotiations but they don't make decisions. They make decisions in conjunction with this group [coach, CEO, head of scouting, head of finance] so they serve more as an administrator of information. This has several strengths and an important weakness. By having more opinions in the room on the most important decisions - which players come in and go - you're likely to minimise the bias. You've got more people giving their opinion on the decision. The weakness is that you don't have a clear decision maker.
The third model is the executive director model. I've seen this model in German football. It's what Southampton uses today and perhaps it's not an accident that the co-ownership of Southampton is German. What you'll have is a CEO of commercial operations, finance, marketing, ticket, stadium operations and then you'll have another CEO with the title of executive director of football who is head of player development, technical development and the first-team football. The chairman has to be very careful who is selected for these positions: can they work together? are they team players? If the chairman doesn't get the balance right then it doesn't work.