Manchester United
'Wenger can give Man Utd fresh start' - Merson calls for Frenchman's return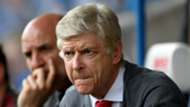 Former Arsenal manager Arsene Wenger would steady the ship at Manchester United if Jose Mourinho is indeed sacked by the club, according to Paul Merson.
The Mirror reports that Mourinho will be dismissed this weekend, regardless of the outcome of the Premier League visit of Newcastle United on Saturday.
Wenger has been without a job since leaving Arsenal at the end of last season following nearly 22 years in north London, during which time he won 10 major honours.
And Merson, an ex-Gunners midfielder, feels the Frenchman would ideally suited to sorting out the mess at Old Trafford.
"Seriously, that's not the worst idea in the world," he told Sky Sports. "You've got to look at what Wenger did.
"You don't have to go out and buy £70m and £80m players with some of the gems he's got over time. 
"It's not a bad shout. Sometimes you just need a fresh start."
Charlie Nicholas, the former Arsenal striker, added: "If Manchester United are serious about clearing up the football club they have to look at someone like that."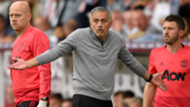 United have not won any of their last four games including last weekend's defeat at West Ham United, after which Mourinho slammed his players' mentality.
Despite reports claiming Mourinho is destined to be sacked Merson feels the players are at fault for abandoning the Portuguese boss.
"I wouldn't sack him," he added. "They've got a serial winner there. No I don't agree with it - I think the players are embarrassing.
"These players are a joke, an absolute joke. To get beat like they did to West Ham, seriously, they're playing for the biggest club in the world."
In response to the media speculation that Mourinho's days at Old Trafford are numbered, Gary Neville unleashed an impassioned defence of the ex-Chelsea and Real Madrid tactician.
Neville, who played over 600 times for United and remains a self-professed fan of the club, says the club's board are to blame for their current plight and Sky Sports colleague Jamie Carragher is in full agreement.
"He knows Manchester United better the anyone," said the former England and Liverpool defender. "He's as passionate as any fan, and he is a fan.
"Anyone loves it when a pundit speaks passionately because it is emotional and he's not putting on an act.
"You couldn't argue with anything that he said. I think there are more problems than just the board."