Arsenal v Chelsea
Welbeck admits Arsenal have disappointed as he seeks to right FA Cup wrongs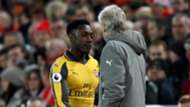 Danny Welbeck concedes that Arsenal have failed to live up to expectations in the Premier League, but is looking to make personal and collective amends in the FA Cup.
The Gunners finished their top-flight campaign with a flourish, but five successive victories were not enough to lift them into the top four and they will now be without Champions League football in 2017-18.
Welbeck acknowledges that fifth place is not good enough for a club with such lofty ambitions, but is pleased to have the opportunity to right a few wrongs against Chelsea on Saturday.
'Arsenal struggling to attract best'
The England international has added incentive to impress in a trophy-winning display against the newly-crowned champions, having missed Arsenal's last cup success against Aston Villa in 2015 through injury.
"As a club, with the way the season's panned out, it's not a [league] position we want to be in at all," Welbeck told Arsenal Player.
"We know that we've got the opportunity of playing in the FA Cup final, and it's something we really want to do our best in.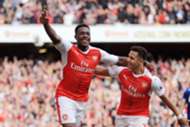 "With the last cup final, I wasn't on the pitch and that was disappointing for me. It was a bittersweet moment for me because you know you've played your part to get there and your team-mates are winning and lifting the trophy, but you wanted to be a part of that and play a part on the pitch as well.
"It's difficult but it's now something that's behind me and you can't change it. I've got the final to look forward to this season, so it's something that I'm going to enjoy. I'm going to play the game and try to win the final.
He added: "Wembley is a place I know really well because I've played there multiple times.
Giroud wants title win at Arsenal
"If you know the surroundings a bit better, it gives you that kind of familiarity. It's a great place to play and what better occasion than the FA Cup final. Hopefully we'll be able to lift the cup again."
Welbeck also missed the first half of the current campaign through injury, with his first appearance coming in the FA Cup against Preston North End in January.
He has since gone on to make a further 18 appearances, netting four goals.