World Cup
'We want to go all the way' – Kane not content with just reaching semi-finals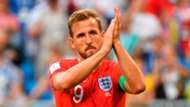 Harry Kane is delighted to have booked a World Cup semi-final clash with Croatia, but the England captain won't be fully satisfied unless he lifts the game's biggest prize.
England beat Sweden 2-0 in Samara thanks to goals from Harry Maguire and Dele Alli, with Kane captaining the side to their first World Cup semi-final in 28 years.
The Three Lions last got to the semi-final at Italia 90, where they fell just short of the final with an extra-time defeat to Germany in the last four. Kane is glad that his side can inspire the next generation as that group did, but he isn't content with just making the nation proud.
"Yes, it is incredible. As players, as a professional, we know our job both on and off the pitch. It is good to inspire people," Kane said at the Cosmos Arena in Samara.
"I was one of those kids who grew up wanting to play for England so to be here and be part of it, to lead this team out makes me so proud.
"I am proud to make ex-players proud and I am sure it is bringing back memories for them ... We said we want to write our own history. Hopefully we can go one step further and get to that final."
The 24-year-old remains the World Cup's leading scorer with six goals, despite not being able to find the net for the first time in the tournament against Sweden on Saturday evening.
The Tottenham striker's goals have taken him to 52 for the season for both club and country. Kane says that although he wasn't born yet to experience the 1990 World Cup, the England squad remain aware of the context of what they have achieved.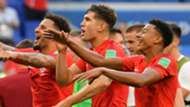 "Yes, obviously a lot of us weren't even born yet when [the 1990 World Cup] was happening," Kane added. "We feel proud to make the fans proud. That's what we wanted to do when we set out to Russia. We wanted to play good football, work hard, play with passion and I feel like we have done that so we are enjoying it.
"It has been a long time since England have done well in a major tournament, never mind win it so look, we know we have got a tough game coming up, but we feel confident.
"Like I said earlier, we felt composed out there. When I looked around, everyone was calm. That's what we need if we want to go all the way, so let's do it in the next one."
England face Croatia in their semi-final match on Wednesday after they overcame Russia on penalties.