Arsenal
'We need to stop fighting each other' - Walcott issues rallying cry after Arsenal bust-ups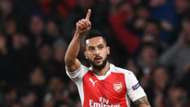 Arsenal forward Theo Walcott has called on his team-mates to stop fighting one another following reports of a training ground bust-up.
Future is bleak for abject Arsenal
Alexis Sanchez is rumoured to have left training early last week following a row which led to him being left on the bench for the Gunners' trips to Liverpool by Arsene Wenger.
And despite Wenger denying the allegations, Walcott believes arguments are part and parcel of any football team, though he suggests the squad needs to be pulling in the same direction.
"Things get taken out of proportion - we all know this," he told the London Evening Standard . "There are certain things that happen at training grounds.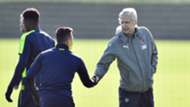 "I'm sure it happens at every other training ground, most of the time, really.
"You don't see it often at Arsenal. Things have happened. They need to stay in the dressing room and the players and staff need to sort it out.
"We are in it together here. We can't be fighting each other.
"I don't really want to go into it but the stuff that has gone on did not affect our first half here [the 5-1 defeat to Bayern Munich]. At certain times when things don't go well, you don't want to have anything in your head that you are giving up.
"The 5-1 scoreline looks like we have given up but we haven't. It just looks like that. That's the disappointing thing because we know as players we don't give up."
Specualtion continues to grow over whether Wenger will remain in charge of the club past the end of this season, with the veteran coach's current contract up in June and fans protesting against him potentially signing a new two-year deal.
England international Walcott, however, believes it is the players who must step up and improve their performances in order to ease the pressure on their under-fire manager.
WATCH: Fans protest against Wenger
"The players are like everybody else - we don't really know what's going on. We just want to try to focus on the football.
"The manager is focused on us. You can see how passionate he is with us from the way he talks to us in the meetings.
"He will take this on himself but us players need to look at ourselves. The manager has been taking a lot of flak in recent weeks and us players have been accepting it, but we can't.
"We need to take the pressure off the manager and that will happen by performances. Who knows what the manager will do? Players just want to play football for this club and do well for the manager."