Liga MX
'We came for football' - Traveling fans cope with inconvenience during Liga MX referee strike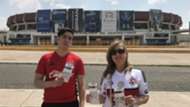 Juan Jesus Corona couldn't talk when Goal first got in touch.
The Club Tijuana superfan was on a tour of the city of Queretaro. This wasn't how he expected his Saturday to go. But Corona, like thousands of other fans, traveled this weekend with the intention of supporting his team on the road, only for the league to suspend the weekend's matches because of a referee strike.
Ruiz's death provides perspective
"We're taking advantage of the trip because we're already here," Corona said later. "We went to the stadium and took some photos with our tickets in hand, just to show that we were there and had tickets to go the day there was supposed to be a game in this stadium — of course we were outside the stadium! And then we took in the sights in the beautiful city of Queretaro, learning a bit of the history of our country.
"It's been a nice time. Of course, we didn't come for this, we came for football, but since there was no football we took advantage of the chance to do other things."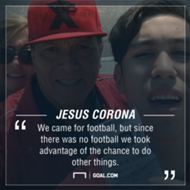 Kevin Lopez, who traveled from the Houston suburb of Spring, Texas, to Monterrey with his family in hopes of seeing his first Liga MX match in person, wasn't able to find as much to do in La Sultana del Norte, as the northern city is known.
"I had already been here before, but no matter what I did my mind was still thinking, like, 'What if the game hadn't been canceled?'" Lopez said.
The Chivas fan has followed the league since he was a child but is yet to make it to a game in person. He had plans to see the Guadalajara-based club in Monterrey earlier this year but had to cancel his trip after a family member died.
The marquee matchup between Tigres and Chivas happened to be scheduled during Lopez's spring break, and he thought the stars had aligned in his favor until he started reading reports about the referees' decision not to work the Jornada 10 games.
WATCH: Torres scores again in MLS
Still, Lopez thought about the Federacion Mexicana de Futbol's reputation for shrewd business decisions and felt the league would move swiftly to make sure the matches went ahead as planned.
"Well, when I was packing my bags I read that the Friday game had been canceled and that there was rumors about the whole jornada being suspended," he said. "I was optimistic and thought, 'They'll make a deal. They'll find the middle ground and only the Friday game will be canceled. There's no f***ing way our greedy FMF will let all of these games be canceled.' 
"So I continued packing, and then as I was about to get on the car to leave I saw the official announcement from Liga MX and was extremely bummed."
While it's a rare opportunity for Lopez to be able to make it to Mexico, Corona has several more trips lined up. The retired principal regularly travels to games with his wife and one or more of his children, booking trips in advance to save on travel expenses. That could come back to bite him if the league doesn't resolve the situation with the officials.
"I already have plane tickets for the next game, which is in Guadalajara, I have them for the game also in Tuxtla Gutierrez against Chiapas, I have a flight for Monterrey," he said. "Those are the three games we close with.
"If this continues, I have the tickets bought, the hotels paid for, they're not going to refund me, so, well, what am I left going to do? Nothing more to do than enjoy the trip. There's a lot to see in our country, a lot of beautiful cities. So I'd take advantage of that. It's a risk we've already taken."