Real Madrid
VIDEO: Ramos apologises after lashing out at Real Madrid youngster in training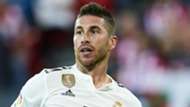 Sergio Ramos has offered an apology to Sergio Reguilon after lashing out at his Real Madrid team-mate during a heated training session. 
Tensions are high around the Spanish capital as Madrid's woeful form shows no sign of improvement. 
Saturday's 2-1 defeat at home to Levante was the club's third loss in the last four Liga games, a run which has seen the Merengue fall away in the title challenge. 
And while all eyes are on under-fire coach Julen Lopetegui, widely tipped to lose his job, the players too are showing the strain. 
Ramos was filmed angrily kicking a ball at Reguilon after the 21-year-old defender flew at his captain during a training exercise. 
Reguilon received the full brunt of Ramos' icy stare as fellow Madrid players attempted to calm the pair. 
But the Spain defender has played down the incident, while accepting he over-reacted. 
Aunque no os lo parezca, son situaciones bastante habituales, pero no es excusa, mi reacción no debió ser esa.
Nosotros siempre vamos a full, ¿verdad, Regui? ¡¡Al final victoria del equipo juntos @sergio_regui!! 😜🤥😜🤥
Carpetazo 📂 y a por el partido de mañana.#HalaMadrid pic.twitter.com/PIFNFqV6mj

— Sergio Ramos (@SergioRamos) 22 de octubre de 2018
"Even if it doesn't seem that way to you guys, these are pretty common situations, but that's no excuse, I shouldn't have reacted in that manner," Ramos wrote on Twitter, alongside a photo of the team posing together in apparent harmony. 
"We always give everything, right, Regui? In the end the team wins together! Let's put an end to this story, it's all about tomorrow's game." 
Madrid take on Viktoria Plzen on Tuesday in the Champions League, as they hope to revert their winless run and put their defence of the title back on track. 
The Blancos currently lie third in their group after going down to CSKA Moscow in their last game, and will also be looking for a positive result ahead of Sunday's Clasico at Camp Nou.