U.S. and Costa Rica face off in rematch eight months in the making
ARLINGTON, Texas — Eight months have gone by since the U.S. national team walked off the field in shame after suffering a humiliating 4-0 World Cup qualifying loss at Costa Rica. When the teams meet again on Saturday for the first time since that fateful day, the rematch will look much different, from the man coaching the United States to the players squaring off.
The Americans and Ticos will each have at most four players on the field Saturday who started in last November's qualifier. That makes talk of revenge feel a little forced. What's on the line Saturday is a place in the Gold Cup final, as well as a potential psychological edge when the teams meet in World Cup qualifying in September.
"Last time we met Costa Rica beat us decisively so we know we need to be well prepared and we need to play well," U.S. coach Bruce Arena said on Friday. "They are a very good team, with a very good defensive record. All things indicate it will be a low-scoring game. Certainly the U.S. would do very well to get an early goal, or to get the first goal in the game."
The last time these teams met, Jurgen Klinsmann was in charge of the U.S., but the 4-0 loss proved to be the decisive blow leading to his departure. In the time since Arena replaced Klinsmann, the U.S. has shown improved results, particularly in World Cup qualifying. Costa Rica coach Oscar Ramirez faced Klinsmann's U.S. team twice, including a 4-0 loss in last year's Copa America, and he sees a U.S. team that has responded well to the coaching change.
"Before you felt there was a certain tension there because of what was discussed before regarding problems with Klinsmann," Ramirez said on Friday. "It seemed like a tense environment. Now the environment I see with the U.S. is a happier environment, an environment where the players are working harder, where they're maybe having more fun.
"I think it's a theme of Bruce Arena, that he has changed, he has brought a calm and helped the team have an important turnaround in World Cup qualifying," Ramirez said. "Now, in the Gold Cup, we're in the semifinals and I think they have regained their level."
Costa Rica entered the Gold Cup looking like the favorite, with head coach Oscar Ramirez calling in a very strong squad which counted Keylor Navas and Celso Borges as the only key players missing. Unfortunately for the Ticos, the injury bug has ripped away many of the team's top attacking options, leaving instead a team that has ridden its stingy defense to the semifinals.
The Americans enter having scored the most goals in the tournament, but also looking much shakier than most would have expected. A tournament-opening draw against Panama suggested Bruce Arena's side was vulnerable, and a less-than-convincing quarterfinal victory against El Salvador seemed to reinforce the notion that this U.S. team was struggling. Arena scoffed at the suggestion, but did offer up an explanation for the lack of consistency.
"If there's any issue in our team it's that we just haven't played together, and that's kind of by design," Arena said. "We can't be real concerned about that, but I think at this stage in the tournament we can go with a lineup that's a little bit more familiar to our team and to people outside the team."
Bet on the U.S. to win the Gold Cup
Arena trotted out a rested group against El Salvador in the quarterfinal, but shot down any notion that he would still continue to rotate players at this point in the tournament.
"At the most there are only two games remaining in this tournament so now it doesn't matter if somebody's tired," Arena said. "I do think we have an advantage where we should be fresher than a lot of the teams that remain. Whether that is a factor or not remains to be seen.
"We saw a team in El Salvador on Wednesday that basically played the same players and had a lot of energy, so I don't know if this is an advantage or not."
The U.S. should deploy a veteran group on Saturday, though Clint Dempsey is one standout who could be rested after playing 90 minutes against El Salvador. The 34-year-old is one goal short of tying Landon Donovan's career USMNT goals mark, and Saturday's semifinal is in Dempsey's home state of Texas, so it wouldn't be a complete surprise if Arena wound up starting him. 
But Arena has been careful about managing Dempsey's minutes after his return from a heart condition, and bringing him off the bench to try and find a goal against a tired Costa Rica defense after starting a younger and faster option like Jordan Morris could be the preferred strategy.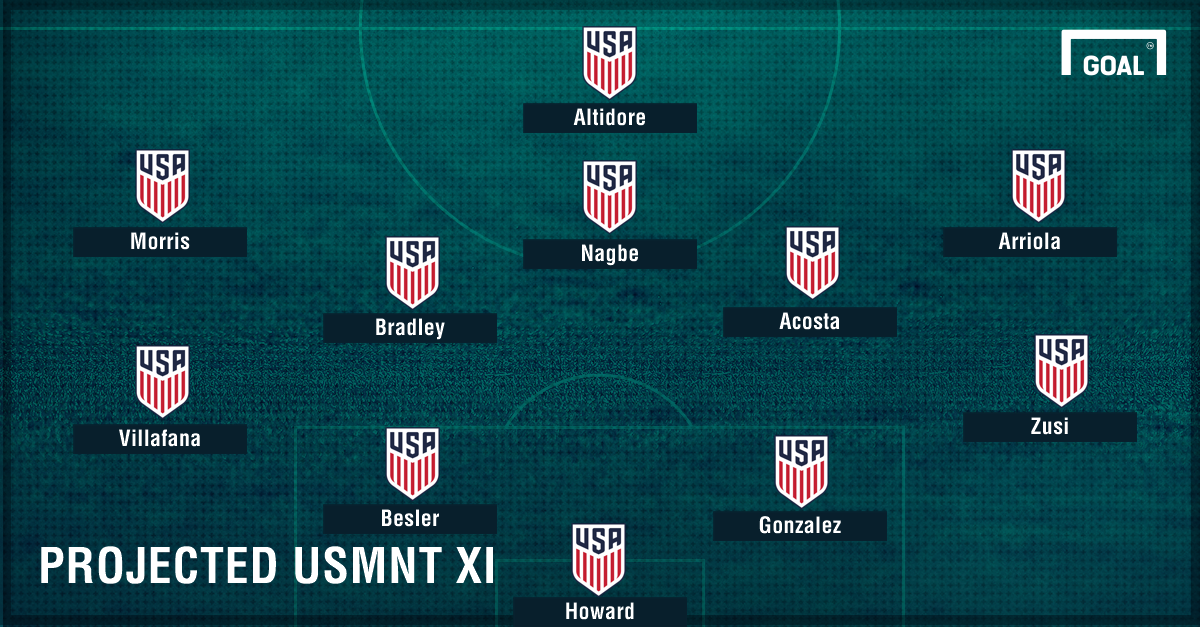 Whatever attacking setup the Americans deploy, they will find it tough going against a Costa Rica defense that has a rock-solid trio of center backs that includes Vancouver Whitecaps defender Kendall Waston and former Columbus Crew defender Giancarlo Gonzalez. The Ticos will look to neutralize Jozy Altidore, who was kept quiet against El Salvador, but who has had his share of success against Waston before.
The U.S. should look to go after Costa Rica on the wings, where the Ticos have been hit hard by injuries. They are down to their second-string wingers after losing Rodney Wallace and Johan Venegas to injuries, while right wingback Christian Gamboa and dangerous forward/winger Joel Campbell have also been ruled out through injury. That should lead the Americans to work the flanks hard, with likely fullbacks Jorge Villafana and Graham Zusi attacking down the wings to put pressure on Costa Rica's wingbacks.
USA's 'roadrunner' still not satisfied
Costa Rica's attack still boasts the ever-dangerous Bryan Ruiz, who has enjoyed his share of success against the U.S., as well as San Jose Earthquakes forward Marco Urena, who has had a good tournament as well. Arena could turn to the dynamic Kellyn Acosta to help Michael Bradley try and contain Ruiz, who likes to operate underneath the striker, often slipping into midfield to find the ball and begin his forays into the final third.
"I think, to their credit, they have a set way they play regardless of the players that are not available," Arena said of Costa Rica. "Well known, their back three or back five, however you want to describe it. The attack, with this team, is highlighted with Ruiz, obviously a very good player. [Urena] has done well as a striker. The back line is strong with Gonzalez, (Johnny) Acosta and Waston. Experienced players in the midfield, so overall a real good team."