U20 World Cup
U.S. Under-20s head to World Cup with promise, but key questions remain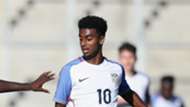 There are less than two weeks to go before the U.S. Under-20 national team kicks off at the World Cup in South Korea, and as much confidence as there may be around the group after winning the first CONCACAF U-20 title in the nation's history, there are still some key question marks after Tab Ramos unveiled the final squad Tuesday.
Chief among them is whether this U.S. team will have the attacking chops to find success at a tournament where opportunities won't be as easy to come by as they were two months ago in the CONCACAF event. The U.S. team found plenty of chances against weaker competition but managed just one goal in three total matches against the toughest opponents in the qualifying tournament: Panama, Mexico and Honduras.
Klinsmann headlines U.S. U-20 World Cup roster
Ramos believes the two months since the CONCACAF tournament have allowed some key players to gain valuable experience, while some others have settled into better situations than they were in heading into qualifying. There will also be some new faces available in South Korea who weren't involved in the two months ago.
"Do I expect more from us? I absolutely expect more," Ramos told reporters during a conference call Tuesday. "We led the tournament in shots on goal in CONCACAF — I think we had something like 81 shots and the second team had 60 in the tournament — and yet we didn't even lead the tournament in scoring. So we were not great up front in CONCACAF, and we have to get better in the World Cup because chances are we won't get as many chances."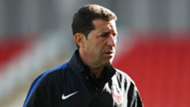 One new face who will carry a big burden in the tournament is Gedion Zelalem, who is coming off a somewhat disappointing loan spell at Dutch second division side VVV-Venlo, where he found playing time scarce.
"Coming in I was a little bit concerned with (Zelalem's) form, and what it would look like, but after having seen him for the last three or four days in practice I'm convinced he's ready to do a great job for us, so no concerns there," Ramos said. "I would have hoped that obviously his career at this point would be a little bit more advanced. Two years ago he was already at Arsenal, he had already gotten some opportunities with the first team, and here we are two years later and still looking at the same type of scenario."
Zelalem's importance to the USA is clear, given he is the only new face in the attack expected to be a regular starter at the World Cup.
"The team is not a whole lot different," Ramos said. "We obviously added Gedion in the center of the field — that'll help us because he's a great possession player. We definitely have to get him to make the game-winning type plays, so hopefully we get that."
Zelalem is one of three members of the current squad who were on the 2015 U.S. U-20 team that reached the World Cup quarterfinals. Zelalem was a starter on that team, as was Tottenham defender Cameron Carter-Vickers, who was included in the current squad despite the fact he is still recovering from a knee injury.
"At this point, Cameron's been running," Ramos said. "He's mostly been working on fitness so far, and we are hoping that in the next three or four days he's going to continue to make progress and be available to us possible for early next week."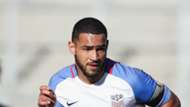 The Americans will head to Asia with confidence gleaned from an impressive run to a CONCACAF title
"We're very proud that, for the first time, we get to travel to a World Cup as champions of our region, and I'm looking forward to seeing how the team responds to that," Ramos said. "Normally we like to play the underdog role, and in this case although we remain underdogs we go there as champions and I hope that we can really take this new experience as a good one, and this becomes more the norm rather than the exception."
The current U.S. U-20 talent pool is considered the best and deepest in the history of the program, but Ramos won't have his strongest possible squad from the pool. Age-eligible U.S. senior national team star Christian Pulisic was never expected to be a part of the Under-20 World Cup, while some other very promising talents were ultimately left out after their club teams made things difficult for the U.S. to secure their releases.
Despite that, this U.S. team has more players playing regular first-team soccer on first-division teams than any before it. That experience will be needed as the Americans head toward a difficult World Cup opener against Ecuador, which finished second in CONMEBOL qualifying.
Goal's Week 10 MLS Power Rankings
"It's definitely a difficult challenge," Ramos said. "This tournament is certainly different than the CONCACAF tournament. I always feel that the CONCACAF tournament is long and we can plan that way because we have the talent to be able to plan for a long tournament.
"In the World Cup, any team can beat you, and by getting the runner-up team in South America as the first team you play, we already start with a final," Ramos said. "So we cannot afford in this tournament to gradually get better. We have to come in already 12 days from now and play the first final. There's no other way.
"Ecuador has a very potent attack," Ramos said. "They can counter really well, so our pressure — if it gets broken at different times — they can create some difficult opportunities for us, just like they did when they beat Argentina 3-0, and when they tied Brazil 3-3. They're extremely dangerous up front.
"But I think it'll be a great experience for us. It's a game that we have to come out and we feel we have to win."