Kylian Mbappé
'Manchester United won't baulk at €110m Mbappe fee' - Sharpe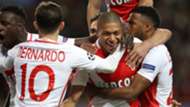 Manchester United would have no qualms about splashing the cash on Monaco striker Kylian Mbappe this summer, according to the club's former winger Lee Sharpe.
Goal understands Manchester City have been put off a summer move for the teenage sensation due to Monaco's reported asking price of €110 million.
Sharpe, though, believes that United would not blink twice when it comes to forking out for the 18-year old, who has been strongly linked with a move to Old Trafford.
"The money in football now is so incredible that clubs don't baulk at any figure," the former Red Devil exclusively told 888sport.
"And, if Mbappe is going to score goals and help sell thousands of shirts around the world, they're probably not going to lose out on the deal anyway. The way marketing is now clubs get their money back reasonably quickly.
"So I don't think that United should baulk at the fee. With Jose Mourinho now they make a statement and being one of the biggest clubs in the world they have to pay transfer fees in accordance with that.
My mum still shouts at me - Rashford
"So to buy the best in the world to be the best in the world you're going to have to pay that fee. I don't think they'd even flinch to be honest."
Mbappe is one of several strikers being linked with a summer switch to United as Jose Mourinho looks to boost his attacking options following an injury to Zlatan Ibrahimovic and ongoing reports Wayne Rooney will leave the club.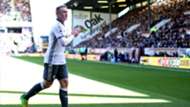 Sharpe believes Rooney is looking at the end of his time in a Red Devils shirt, with fewer opportunities being given to the United captain by Mourinho.
"I think it will probably be Wayne Rooney's last season," Sharpe added.
"He's only 31 so he's still got a lot of football left in him but the manager hasn't involved him much this season.
"He'll be expecting to make a bigger contribution elsewhere for the next couple of years whether that be with his boyhood club Everton or by trying something different in America.
"When the manager spends big money this summer on a forward we will see the back of Wayne Rooney which will be a shame because he's been a fantastic servant for the club. He'll be sorely missed."
Read the full 888sport interview with Lee Sharpe, including his thoughts on how Jesse Lingard has been harshly treated by fans