U17 World Cup
U17 World Cup Quarterfinals: How does the final eight knockout lineup look like?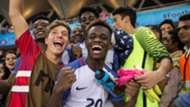 The knockout stages of the 2017 FIFA Under-17 World Cup in India moves onto the quarterfinals, set to get underway on October 21 and 22 across four venues in the country.
The final round of the pre-quarterfinal matches were concluded on Wednesday with the last 8 spots now completely taken.
Goal takes you through the four different mouth watering ties lined up in the quarterfinals in order according to their match dates.