Premier League
The nightmares that lurk beneath the football dream laid bare in 'No Hunger for Paradise'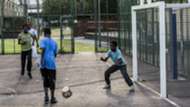 "Children are not mini-adults. They're very, very different." In most environments, this message from the Football Association's Talent Identification Manager, Nick Levett, would be deemed unnecessary and draw a very simple response of 'well, duh!' 
The route from Liverpool's Academy to first-team
But in an industry where kids as young as four are being hoovered up, where text messages are sometimes used to ruthlessly release those young enough to need a teddy at bedtime, where eight-year-olds are paraded on a pitch one week only for their academy to be shut down the next, where a father admits he admonished his son of six for performing poorly in a trial, and where pre-pubescent teenagers are being hunted by agents through social media, it serves as a most critical reminder.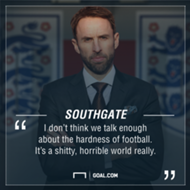 The scenarios above are just a snapshot of the cruel, ugly layers beneath the dream of becoming a professional footballer, which is surgically explored in Michael Calvin's latest offering No Hunger in Paradise.
The book journeys through youth football in England, noting the accounts of volunteer coaches at community centres, parents, players, those involved in plush academy set-ups, national team boss Gareth Southgate and so many others who help paint a high-definition picture of a shattering stat: Of the 1.5 million boys who play at an organised level in development stages across the country, only 180 will feature in the Premier League. 
"I don't think we talk enough about the hardness of football. It's a shitty, horrible world really," the Three Lions manager admits before recalling "one of the worst days he can remember" when six fellow Youth Training Scheme kids at Crystal Palace were told they wouldn't cut it at the club, reducing them to tears.
The gutting stories will take you back to Levett's words, and leave you wondering just how so many children have been put through so many situations that adults would find hard to handle. The path of Zak Brunt, in particular, highlights this. The 15-year-old, now at Derby County, has already lived through extremes: from winning a skills title at Manchester United Soccer School aged six, to being without a club for 10 months due to a fall-out between his father, Glen, and Aston Villa.
A spell at Manchester City followed, but also soon ended in acrimony, before trials at Real Valladolid, Villarreal and Atletico Madrid materialised. The latter was impressed significantly enough to offer Zak a youth contract, but six months afterwards, his world twisted again.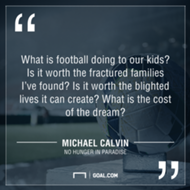 FIFA informed his unemployed dad they were in breach of Article 19, which stipulates no player under 18 can be transferred internationally unless the family are relocating for work purposes. 
The teenager returned to England, where Arsenal and Chelsea wanted to run the rule over him, before finally settling at Derby. 
"No other lad has been through what I've been through over the last eight years," Zak strongly points out, but moreover, people double his age would struggle to navigate such drastic highs and lows. 
Alexander-Arnold and Woodburn's story
His tale is unfathomable, and as Calvin tells Goal: "We're dealing with very young lives, with immature bodies and half-formed characters and it's not something football can take lightly."
He touches on the agents, coaches and even parents that make profiting off gifted children a priority and tackles the bullying culture prevalent through the development phase.
"It makes me think, 'what is football doing to our kids?'," Calvin says. "Is it worth the fractured families I've found? Is it worth the blighted lives it can create? Is it worth the almost full commoditisation of childhood? Football has got a huge duty of care, but I don't think the game has applied that with due attention. 
"Safeguarding has improved exponentially, but there is still massive exploitation.
"What is the cost of the dream? We've got vulnerable children and concerned parents, is football doing the right thing by them? I suppose as questions like these multiply, I hope the book can be a catalyst for that kind of debate."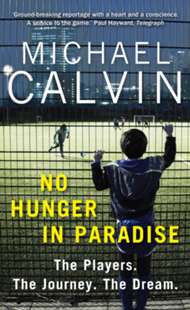 No Hunger in Paradise, while shining a much-needed microscope on the ills in youth football, also shares great hope. One form of this is the Afewee Academy, a non-profit organisation staffed by volunteers that counts Liverpool's Nathaniel Clyne as a graduate, which provides training and inspiration for Brixton's kids between the ages of five and 16.
Another is the independent advice service, Players' Trust, and Calvin also explores the measures being taken by a few clubs to prevent what Jurgen Klopp termed the "bling, bling, bling" culture permeating the game and distorting young minds. 
"Football, like life to an extent, is not Walt Disney," the award-winning author adds. "There is good and bad. If there's a common thread through the book, I hope it's the humanity of the subject.
"We can cherish the dream and celebrate achievements, but please - we need to protect the innocent. I really hope that everybody learns to see the child and not the player. That is an important start."
They are, after all, not mini-adults and that truth needs to become a 'well, duh!' statement in football too.
No Hunger in Paradise in on sale now and you can order it here