Ligue 1
The French Connection: Manu Garcia joins the Ligue 1 finishing school
Given Ligue 1's reputation as the perfect finishing school for young players, it should come as little surprise that Manchester City boss Pep Guardiola has sent one of his most technically gifted young players to France's top flight..
Manu Garcia has been sent on loan to Toulouse for the duration of the season, with the men from the Pink City hoping to benefit from his technical ease while in return providing him a base from which to refine himself. 
Already in Ligue 1, the 20-year-old has caught the eye with his first touch and range of passing, yet City have sent the diminutive midfielder to France to toughen up and improve his defensive work.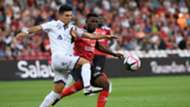 Garcia has been gradually working his way up the footballing ladder, having spent 18 months on loan at NAC Breda, first in the Dutch second tier and then in the Eredivisie after he aided them to promotion. 
Such was his success there, Valencia, Sevilla and Villarreal from La Liga were all credited with an interest in him, yet it was deemed the most appropriate move for the sake of his career was to France, where he finds himself in the Pink City.
"On the technical side, he's a very high-level player," head coach Alain Casanova explained of the former Spain Under-19 international. "He's very comfortable playing a range of passes and his first touch is of a very high quality."
The Oviedo-born player has showcased his ability to eliminate defenders with one touch on numerous occasions this season already, whether deployed high up the field as a playmaker or in a deeper role in front of the defence. Indeed, it was in that No.8 role he typically played in the Netherlands, but in Ligue 1 he has found himself more frequently used as a No.10 in order to exploit his talents in possession far up the field.
Toulouse in recent seasons have been a grim, defensive side, but over the course of the summer have been built to become more expansive and exciting. Garcia is central to this transformation, though Casanova is aware that he has a game that still needs to be polished.
"He has huge potential, but if he's not reached it so far, it means there are gaps in his game," he said.
Those voids come with regard to his defensive play and his physicality, and it may be this deficit that has provoked his coach into deploying him as a playmaker.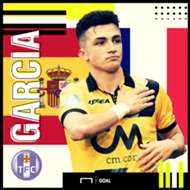 "He is a very good player with the ball, but he must become a very good player without it," Casanova continued. "He needs to improve in his ability to become more intense more often and be stronger in the areas of recovering the ball and transitioning to defence."
These qualities will all be tested regularly, and ideally developed, in Ligue 1.
But it is not just purely the defensive side of things that Toulouse will want to see him improve. Garcia is not a natural scorer, he has only three goals to his credit from over 60 league outings, and has yet to muster even a shot on target for TFC. 
Again, Casanova will be working hard to make him a more decisive player in this regard.
Many of the facets to become a top player are already present in his game, but if he is to make the grade at City, every aspect of his game will have to be working at full capacity. He has a year to prove himself in France, in what might be the decisive season of his career - and Toulouse are confident it will be a roaring success.