Arsenal v Manchester City
Take our Arsenal quiz to win a dream trip to the Emirates Stadium to see the Gunners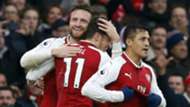 It's set to be one of the most mouth-watering clashes of what has already been a thrilling Premier League season.
In February, Arsene Wenger's great entertainers will test their mettle against Pep Guardiola's Manchester City – another of the most exciting teams in world football.
And Goal have teamed up with Emirates to offer you the chance of seeing it all first-hand by sending you to London, one of the world's great cities for this Premier League clash of the titans.
The lucky winners will be flown to the English capital from Dubai and be presented with tickets for the match at the iconic Emirates Stadium.
For your chance to win, simply complete the quiz below!
(function(b,o,n,u,s){var a,t;a=b.createElement(u);a.async=1;a.src=s;t=b.getElementsByTagName(u)[0];t.parentNode.insertBefore(a,t);o[n]=o[n]||[]}) (document,window,'_qual_async','script','//player.qualifio.com/kit/qualp.2.min.js');_qual_async.push(['createIframe', 'qualifio_insert_place_388295', 'player.qualifio.com', '20', 'DE392C74-D832-5C29-A813-F8430654B98E', '100%', '1200', '', '', '', 'max-width:1080px;margin:0 auto;']);Terms and Conditions