PSL
SuperSport United have given Safa an ultimatum, says Matthews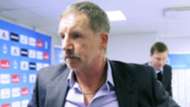 It was previously reported that talks between SuperSport United coach Stuart Baxter and the South African Football Association (Safa) had stalled.
According to reports, Safa are yet to finalise negotiations with Baxter, over the vacant Bafana Bafana post, three weeks after the initial deadline. The saga has been a frustrating affair for both the club and Baxter, with the SuperSport hierarchy growing increasingly impatient.
Matsatsantsa CEO Stanley Matthews has since given South African football's mother body an ultimatum. The Tshwane side have given Safa until the middle of next week to finalise a deal with the 63-year-old, or the club will take it upon themselves to call off the negotiations.
"It's very simple – we gave them a week' they've taken three. It's not satisfactory for us' and it's not satisfactory for Stuart (Baxter)'" Matthews told Times Media.
"And unfortunately he had to have an operation yesterday' so he's out of commission for a week' so I don't want to stress him during that time.
"But if the situation isn't resolved by the middle of next week' we're going to call it off' or we are going to make our own announcement," The SuperSport CEO stated.
"I can't speak on his behalf but what I can say is that there are non-financial issues that Stuart (Baxter) has been requesting details of from Safa for three weeks' and they haven't come back to him on.
"And it's just getting unfair. I can't sign pre-contracts for next season if he's not my coach," Matthews said.
"I can't move. I've got Africa to deal with and the group stages of the Caf Confederation Cup to think of now – I've got four spaces to fill in the squad for that.
"And I don't know who I can fill those with because I don't know who my coach is' which is wrong," Matthews added.
It is believed that Baxter is still awaiting clarity on whether he will be allowed to complete SuperSport's current campaign, before making a decision on his future.
"That's non-negotiable whatever happens. That's not one of the things'" Matthews said.
"I think it's more related to his future' the structure of his support staff' and so on. And the guy wants to know' and he's got a right to know.
"Three weeks is gone and he hasn't been give the details that he wants.
"So I think he's annoyed' we're annoyed – if it's not resolved by the middle of next week then I think it's time to call a halt on proceedings," Matthews concluded.