Mamelodi Sundowns
Sundowns utility player Asavela Mbekile flattered by Pitso Mosimane's praise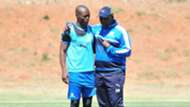 Ever since Mamelodi Sundowns acquired the services of Thapelo Morena and Anele Ngcongca, utility player  Asavela Mbekile has found game time limited despite being described by Pitso Mosimane as the best right-back in the country.
However, while many were surprised by Mosimane's pronouncements, the 30-year-old says he is patiently waiting to prove the Caf Champions League winning coach right.
"It's always nice to hear such words coming from the coach. He's been around and he's worked with so many players. I just have to be patient because Morena has been doing well and we can't change a team just because of one person. When the team is doing well, then they have to stick with that. I am just waiting for my time and when I get it, I'll make sure that I do well," Mbekile told The Star .
Meanwhile, Mosimane previously stated that the reason for Mbekile's limited game time is because he prefers to be used midfield, but Mbekile denies speaking to the Sundowns coach about it.
"We never really spoke about that, but I think it's something that he picked up," Mbekile explained.
"I don't know, I never went to him and told him that I don't want to play at right-back. I am always ready to play; it doesn't matter whether it's right-back or midfield. He has the best interest of the team. If he thinks I can do well at right-back, I just have to accept it and play," he added.
Nonetheless, while competition for places at Sundowns is rife, Mbekile is adamant that there is no bad blood within the Sundowns camp.
"Actually Morena and I are best friends," Mbekile stated.
"We stay close to each other and we talk a lot. (Siyanda) Zwane is a nice guy, we get along. I think at Sundowns everyone gets along, we have that culture where we support each other. Whoever is playing, we support him. We get along fine. We support Morena when he is playing and we expect the same (support) from him (when we play)," he concluded.