Success for du La Liga HPC as Awada signs for Nejmeh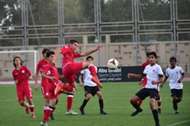 Lebanese club Nejmeh have signed du La Liga under-18 player Mohammad Awada after he impressed at the du La Liga Academy, becoming the first player to sign a contract with a club between 72 players picked for the du La Liga High Performance Centre.
Four other players earned trials with different international teams and clubs, with Mohammad Bu Herrafa also from the under-18 side receiving a chance with El Ejido of Spain.
The rest of the batch came from the under-16 side and joined international teams, with Fabio Rolano on trial with the Bolivian national team while Aidan Pinto and Zayed bin Walid will go on trial with the Indian national team.
This proves a great success for the du project which aims to give UAE-based talent the chance to shine and be prepared for the possibility of international football. Pinto agreed with this, as he claimed that "the du La Liga HPC gave me the confidence to showcase my capabilities with the Indian national team."