Indian Super League
Subrata Dutta - IMG-R, AIFF partnership is the best thing that has happened to Indian football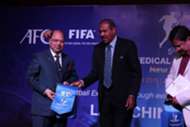 The All
India
Football Federation (AIFF) Senior-Vice President Mr. Subrata Dutta on Tuesday spoke about the contribution of IMG-Reliance towards football in
India
at the Football Players Association of India (FPAI)-organised Indian Football Awards 2018.
Mr. Dutta, an experienced administrator who has been associated with Indian football for nearly two decades, shared his experience about how things have changed since he joined the AIFF.
He said, "I congratulate the Football Players Association of India (FPAI) for not only supporting the players but also awarding them every year. When I joined the AIFF in 2004, let me confess I was very disappointed, dejected and frustrated about the way they use to function back then. The AIFF used to function from Goa, the hometown of then General Secretary Alberto Colaco. Later, the AIFF had their own residential office in Dwarka."
"In 2008, AIFF president Priya Ranjan Dasmunsi fell ill. At that juncture, I thought that the progress of Indian football will come to a halt. Then Praful Patel became the President and he brought dynamism in Indian football."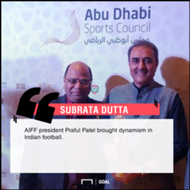 The Senior AIFF vice president also stated how the emergence of Indian Super League (ISL) was the best thing that happened to Indian football.
"In 2010, the best thing for Indian football happened. IMG-Reliance became the commercial partners of the AIFF. With IMG-R, the national football development began. They not only sponsored but also started promoting and developing the game," said Mr. Dutta.

"In the same year, we also got Mr. Kushal Das, an experienced chartered accountant who was with the International Cricket Council (ICC) as our General Secretary. The progress of Indian football started accelerating with his arrival," he added.
Further continuing, he said, "Whenever I travel abroad for any football event, they ask me about the ISL. The ISL will complete five years next season. I never imagined that so much money will be invested in Indian football. IMG-Reliance's is the only five-star academy in India. They are spending a lot on youth development. The ISL clubs too are spending in crores. This investment was very much needed in India."
He also reiterated FIFA president Gianni Infantino's words about India no longer being 'sleeping giants'.
He said, "India is not just a name anymore, they are not a sleeping giant. It is now a footballing nation."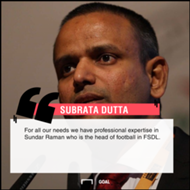 Mr.Dutta also said that the AIFF will receive aid from FIFA for the development of a national training centre in Kolkata. He reserved special praise for Sundar Raman, the CEO of Reliance Sports.
"FIFA is supporting us for the national training centre which will be built near Eco Park (Kolkata). They are giving us close to six million pounds for it. For all our needs we have professional expertise in Sundar Raman who is the head of football in Football Sports Development Limited (FSDL)," he stated.