WC Qualification Africa
Stuart Baxter to discipline badly behaved Bafana Bafana players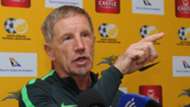 South Africa head coach Stuart Baxter has disclosed that he will deal with players who reportedly partied hard after Bafana Bafana's defeat to Cape Verde two weeks ago.
Bafana players Bongani Zungu, Andile Jali' Keagan Dolly and Tebogo Langerman were recently named and shamed in news reports after they partied late into the night in the team hotel.
British tactician Baxter has since named them in the Bafana squad which will take on Burkina Faso in another World Cup qualifier early next month.
"I'm guessing that every sporting code in this country has had these sort of problems," Baxter told the media.
"This will not be the only national team that has some players overstep the mark. The English rugby team have done it' the All Blacks have had problems with it' Bafana have had problems.
"I know that every group of sportsman that get together' they've got the possibility of overstepping the mark. That overstepping has probably been going on for about 60 or 70 years' and I've had 10 sessions with this group," he continued.
"So' allow me a bit more time and I'll make sure that the players who represent this country don't think that it's acceptable to overstep. Because I'm pretty sure that most people in this country over the last 50 years have almost looked with admiration at boys taking a drink' or boys being boys.
"But when we're professional athletes' and when we are professionals representing our country' we don't do that. So I'm as open as I can be. It will be dealt with in-house' and it will be dealt with quickly. And we will reiterate a very strict code of conduct," he added.
The players' partying allegedly included women and booze' and continued despite Umhlanga Garden Court hotel security trying to bring it to a stop.
The former Kaizer Chiefs and SuperSport United gaffer was at pains not to "hang my players out to dry."
"(But) certainly they will know about my displeasure because some of them had gone when we had come down for breakfast – they got their early flights'" he said.
"There are incidents historically of 'during camp'' etcetera' etcetera. I don't believe that anything happened during camp.
"I think that with this' maybe something got lost in translation that previously players' when the last ball is kicked' feel a certain amount of freedom to overstep the mark. That's not how it works with me," he stressed.
Baxter stated that the public have got every right to demand more than that sort of behaviour from the players.
"The public are not alone on that. And' again' I don't want to batter my players in a public forum. Whatever I say here you can multiply by 10 what I will be saying between four walls," he indicated.
"I don't want the players to feel that I'm hanging them out to dry – as individuals or groups or even as a unit. (But) the public have got every right to demand more than that sort of behaviour.
"When everybody gets into camp' anybody who was involved in this will know very clearly my thoughts on it," he concluded.