PKNS v Selangor
Stop shipping goals, Safee tells PKNS following five-match winless streak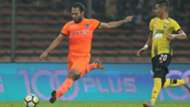 ---
BY        ZULHILMI ZAINAL       Follow on Twitter
---
Following their 2-2 draw against Selangor in their Malaysia Super League clash on Sunday, PKNS FC striker Safee Sali has urged his team to stop conceding goals too easily.
In the round 15 match that was held at the Shah Alam Stadium, the hosts opened the scoring through Rafael Ramazotti's 18th minute goal, but the visitors snatched the lead through goals by Rufino Segovia (79') and Kugan Dhevarajan (90'). However, Ramazotti rescued a point for the Red Ants with his second of the night, two minutes into injury time.
In their round 14 match last Wednesday, Selangor had edged PKNS 2-1 at the Kuala Lumpur Football Stadium. The two Selangor-based sides are set to meet two more times again on June 23 and 30, in the semi-final stage of the FA Cup.
Speaking to the press after the match, the former Malaysia striker rued the fact that the Red Ants have not been able to win recently, due to the fact that they have been conceding more goals than they have scored.
They have not won once in their five most recent matches, scoring five and conceding eight.
"We came here tonight to win, instead we struggled and allowed the opponents to turn the score around. This needs to be corrected.
"We've been scoring goals, but we've been conceding more! My teammates should know what they've done wrong, and we need to buck up," remarked the 34-year old forward.
Following the draw, PKNS remain in sixth place while Selangor stay in eighth. The domestic competition will take a one-week break for the Islamic celebration of Aidilfitri after the final round 15 match, between Pahang and JDT, is played this Tuesday.