Africa Cup of Nations Qualification
Steven Pienaar excited with Bafana Bafana's future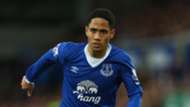 Legendary Bafana Bafana midfielder Steven Pienaar is excited with the country's future after witnessing their record-break victory over Nigeria in the 2019 Afcon qualifier recently.
"I watched the game and I was quite impressed. You could see the energy that the guys showed'" Pienaar told TimesLIVE.
Furthermore, 'Schillo' says Baxter is one of the best coaches he has worked with from a tactical point of view.
"The youth that's in the team' and they've got some experienced players who can keep them calm. I'm excited. It's exciting times for us. The coach is a disciplinarian. Tactical-wise, he's one of the best I've worked under. He's definitely going to help the team. And I hope the players just don't get carried away and keep working hard," Pienaar said.
The former Everton midfielder believes the emerging players from the junior national teams can help Bafana achieve more in the next few years.
"I watched a few of the U-20s' games and there are a few good players. And even if you look at Ajax Cape Town' they've got a few good young players. Maritzburg United have a few young players, and there are also a few young players playing in Europe already," he continued.
"And with the coach knowing about development' he will want to select the players who are on-form and who want to succeed, and like I say' it's exciting times for South Africa," Pienaar concluded.