Singida United
Singida United's Usengimana leaves team camp over signing fees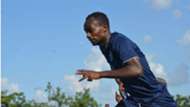 Singida United forward's Danny Usengimana has left the team's training camp in protest over delays of his transfer fees payment , reports say.
The former Rwanda's Police Kibungo man who was signed by Singida United prior to this season has scored just three goals under Hans van Pluijm.
Currently, the club is preparing to host Yanga in the Federation Cup last eight tie on April 1 at Namfua Stadium.
Once asked by Goal if the reports are true, the club through the team manager declined to comment on the matter.
Speaking to Goal, team manager Ibrahim Mohamed dismissed the rumors suggesting that the team is now focusing on their coming match against Yanga.
"We are not going to take time and discuss about a single player, we are in good condition ahead of our match against Yanga on Sunday so there is no room for other reports," said Mohamed.