Simba
Simba SC vs Al Masry: Big match stats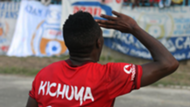 Simba SC has claimed that their exciting records against North African teams could be the key to the victory in their CAF Confederation Cup tie with Egyptian Al Masry on Wednesday. 
Speaking ahead of the game, the Media Communication Officer, Hajji Manara said that, the game will be tough for both teams but they have had good preparation which will be fundamental to the victory. 
Where they come from
Simba SC edged past Djiboutian side, Gendarmerie on 5-0 aggregate success, in the first leg tie which was held at their home ground in Dar es Salaam, Wekundu wa Msimbazi won by 4-0 and in the return leg the results was 1-0. 
Al Masry were through following their 5-2 aggregate victory against Green Buffaloes, in the first leg the Boss of Canal won by 4-0 at home and then beaten away by 2-1. 
How they performed last season 
This is first time for Simba SC to feature in this tournament after five season, the last time Simba played in the CAF competitions was in 2012 in the Champions League were by they received a heavy defeat of 5-0 aggregate from Angolan side Recreativo Desportivo Do Libolo. 
Al Masry featured in this competition last season and they were eliminated in the Play Off by Ugandan side KCCA. 
Home and away records 
It seems like Al Masry is more dangerous when at home, starting from last season, they won all of their past three matches in this tournament without conceding a goal, meanwhile they have a poor record when they are away from home, they conceded in their all three matches and did not manage a single draw. 
Simba SC were beaten at home by Libolo in 2012 but not this time, in their first game against Gendarmerie they won by 4-0 and against Al Masry will be their third tie at home. 
Players to watch 
Simba SC had a good transfer window which enabled them to recruit some good players. They have a lot of match winner caliber example being the Ligi Kuu top scorer Emmanuel Okwi and his twin striker John Bocco. 
Also Shiza Kichuya is one among the match decider for Simba squad. 
Ahmed Gomaa and Ahmed Shoukry are the players to watch from the Canal Boss, these twin strikers have had good partnership in the field and they will be dangerous towards Simba SC goal. 
How are they doing in their Leagues
Ahead of this clash Simba SC lead the table with six points clear although they had a setback in their last game. In their last five games they have won three times and drawn twice. 
Al Masry sit fourth on the table 24 points adrift to leaders, they had a 3-1 win in their last game against Asyouty Sport. In their last five matches they have won three times and drawn twice.