African All Stars
Shola Ameobi inducted into Newcastle United's hall of fame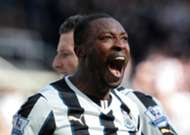 Shola Ameobi has been inducted into Newcastle United's foundation hall of fame after a successful career at the club.
The former Nigeria international striker scored 79 goals in 397 appearances in all competitions in his 14-year spell for the Toons and joins legends like Alan Shearer, Jackie Milburn and Sir Bobby Robson as a member of the prestigious hall of fame.
The 36-year-old forward was inducted alongside ex-England international Leslie Ferdinand in recognition of their achievements while at the club.
And the Notts County striker, 'honoured' to have been inducted by his boyhood club,  wants to help youngsters fulfill their dreams.
"I'm actually quite embarrassed to be mentioned in the same vein as some of the other Hall of Famers," Ameobi told club website.
"It's such an honour. This club has meant the world to me.
"It has been my lifeblood, growing up a stone's throw away from the stadium and aspiring to play football.
"To get a chance to do this is such a dream come true and to be able to share it with so many passionate people in this passionate football city, it just means such a lot.
"I grew up watching the likes of Rob Lee and Nikos Dabizas, who are also here at this dinner, and they inspired me - and I just want to be able to help inspire youngsters now."