African All Stars
Shola Ameobi eyes coaching role with Newcastle United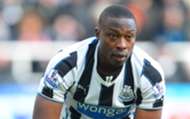 Nigeria international, Shola Ameobi is eyeing a coaching role with Newcastle United in future where he spent fourteen years of his career, though he currently plays for Notts County.
The striker has featured five times this season for the League Two side but claims that Newcastle will always be part of his life.
Ameobi who has bagged his Uefa A Licence is passionate about helping young boys develop their skills.
"I'm still helping out on days off [from Notts County]," Ameobi told The Guadian.
 "Newcastle is home and it's where I live, even if I stay down in Nottingham during the week. I work with Newcastle's academy players, the schoolboys; from 12s to 16s. It's doing sessions and working with the strikers.
"I am doing it when I can. It's something that I'm passionate about – I have been all my career – and it's helped me, as well. It lets me see the game from a coach's perspective. It's really broadened my horizons.
"When I was in the Newcastle youth system, I was inspired by the guys in the first-team and that's what I want to do for these younger players.
"I feel there haven't been enough players coming through the academies, certainly at Newcastle and, if I can improve the players there by one or two per cent, it's something I feel obliged to do.
"I love the place, I'm from there and it's what I've always known. In the future, I'm certainly open to it (coaching). It's something that I'm working towards now.
I'm helping the young kids and, even if I'm not an official part of it, I will always be there to try to help the younger kids coming through.  Newcastle is a club that will always be a part of my life."