Shahril Ishak
Shahril still a key piece in Home's jigsaw puzzle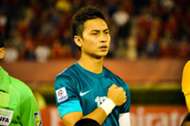 At 34 most footballers would be slowing down and think about retirement but not Shahril Ishak. The veteran player has been a wonderful servant for the local game and when he was captain of the national team, he always made sure the Lions found their voice roar.
Indeed the AFF Player of the Year in 2013 is bringing those same qualities to Home United as he remains a crucial piece of Aidil Sharin's jigsaw puzzle, as they aim for glory in the AFC Cup Zonal Finals against Ceres–Negros.
Watching shahril play is akin to watching Ryan Giggs in his twilight years. Speed of the legs replaced by speed of thought and that encapsulates Shahril. His movement and brilliant link-up play with midfield dynamo Izzdin Shafiq is a sight to behold at times.
In the first leg of AFC Cup Zonal Finals in the Philippines, it was Shahril and Izzdin connecting with each other through a corner kick that allowed Isaka Cernak to have an easy tap in. What seemed like a terrible corner from Izzdin was met with a superb glancing header by Shahril to deceive the opponents' defenders.
It was pure experience from the former Warriors man that allowed the The Protectors to be in the driving seat with an away goal, when the two teams meet in Singapore for the second leg. And although the captain's armband may not be strapped around his arm, the forward has already fired up his team, encouraging them to give Singapore an early 53rd birthday present in light of the Republic's National Day happening the next day after the second leg.
At 34, the midfielder knows he won't have too many shot left at glory and will be keen to make the most of Wednesday night's encounter. Should Home lift the trophy it could be due to their Renaissance man making the difference.