Super League
Seven MSL clubs' licensing on track - Kevin Ramalingam
Ooi Kin Fai and Zulhilmi Zainal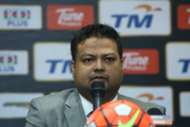 M-League organiser Football Malaysia LLP (FMLLP) CEO Kevin Ramalingam has revealed that seven Malaysia Super League (MSL) clubs are on track to procure their MSL club license, while the remaining five are not far behind.
Speaking to the press following the FMLLP congress in Johor Bahru on Wednesday, Kevin said that the organisation is focusing on assisting MSL teams this year, as Malaysia's top tier clubs have until the end of the current season to procure licensing.
"Even at the moment, I have staff visiting the teams to get their documentations in order. We don't simply issue directives that they must meet, we also go and help them make sure they meet the criteria.
"We are (currently) focused on the Super League because their licensing starts next year and they have to complete it this year. I will say within the MSL, seven teams are on track, and even the five that are not on track are not very far behind," revealed Kevin.
He however did not reveal the clubs that are on track and those who are behind.
Kevin also explained that the congress was held to provide explanation and updates to the clubs regarding the Super League and the Premier League.
"We did not touch on the league format, we explained about the authorities of the congress members, the executive committee (exco) members, league secretariat.
"We made sure everyone knows and realises their roles and powers in the congress, and we selected three more club representatives in the board of directors.
"So now FMLLP is complete in terms of the composition of its board of directors as planned, to have team representatives in the board," he explained.
The three newly-elected representatives are Sarawak's Ismail@Razali Dolhan, Terengganu's Marzuki Sulong and UiTM FC's Mustaza Ahmad.