Manchester City
Aguero still king of the one thing Pep can't teach him - goals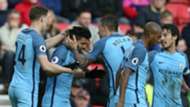 ---
COMMENT
---
Sergio Aguero might not ever be able to do all that Pep Guardiola asks him to do - consistently, anyway - but he remains king of his own realm.
He is not adaptable enough out wide to give Raheem Sterling or Leroy Sane a sustained spell up top, although it was momentarily Sterling, not Aguero, haring through the middle when Sane scored from the left wing just after half time.
Aguero & Sane fire City past Sunderland
He might still give the ball away too often for Pep's liking when he intends to trap it or lay it off.
But there is no doubting his pedigree at doing the one thing Guardiola can't teach him - putting the ball in the net.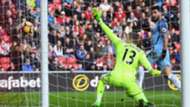 Aguero scored the first goal here against Sunderland just before half time. It was Manchester City's first shot on target.
Sunderland to that point had competed well - as they have done against Chelsea, Liverpool and Tottenham here this season - but that goal was a pin prick to their ambitions.
It was a reminder that while they may possess a poacher of their own in Jermain Defoe, City, with David Silva, have the class to get the ball to theirs in goalscoring positions.
From there, Aguero doesn't ordinarily disappoint. That was his 23rd goal of the season but - amazingly - his first since January 2 in the Premier League.
"Today he was so involved in the way we played," Guardiola said. "Not just in the box to score goals – but that was so important. The pitch was tough, was heavy, not for strikers, was a bit uncomfortable but he played really well again. His talent is there and how he fights, how he tries to help us, that gives us a lot of energy."
He's had to deal with the Gabriel Jesus problem, of course, but - since the teenager broke a bone in his foot against Bournemouth - has had the striker's shirt to himself for the last three games running.
It has brought a haul of five goals - two each against Monaco and Huddersfield and the one here against David Moyes' side - but not been enough to settle talk on his future.
Gabriel Jesus will probably be fit before the end of the season and no matter what Aguero does between now and then, it is not going to sway Guardiola from picking the Brazilian as his first-choice centre forward next season. The new kid has a hunger and a knack for sure, and is well-adapted to playing with Sane and Sterling already.
Those two are wreaking havoc on all opposition at the moment, providing pace, trickery, assists and goalscoring in abundance and giving Pep unequalled power down the wings. They were again excellent again at the Stadium of Light.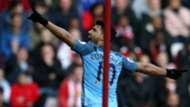 But the manager ran out of patience on Friday when asked about his centre forward by the press, shutting down any talk about Aguero's future prospects. As long as he keeps scoring goals, though, he is always going to be a topic of conversation.
And prolific as Aguero has been in recent weeks on the field, he has been equally prolific off it in tossing verbal hand grenades to his manager.
The usually taciturn Argentine has responded straightforwardly when asked about what will happen at the end of this season. Some variation of having "three months" to impress on the field and the club needing to make its intentions known to him is the normal reply nowadays.
What started out as a three-month window to impress is getting smaller match by match, but Aguero's strikes are keeping City on track in three competitions.
Crazy Alexis call backfires on Wenger
They have already won two Premier League titles relying on Aguero's goals and are unlikely to fulfil their ambitions in that competition as well as the Champions League and FA Cup without contributions from the man who is now within 20 of the club's all-time scoring record.
He might not be able to stop talking but, happily for Pep, he can't stop scoring either.