Manchester United
'Second shouldn't be tolerated at Manchester United' - Neville sees problems amid progress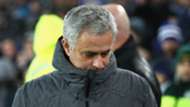 Gary Neville admits "second shouldn't be tolerated at Manchester United", but he believes improvements are being made under Jose Mourinho.
The Red Devils could only muster a sixth-place Premier League finish in 2016-17, with three trophy triumphs helping to paper over the cracks.
It appeared at one stage as though a return to title contention could be made this term, but untimely wobbles and the imperious form of arch-rivals Manchester City has seemingly put the domestic crown out of reach.
Neville concedes such pressure is part of life at Old Trafford, with it up to Mourinho and Co. to keep pushing forward towards major silverware and salvage something from a season which promised so much.
The United legend told Sky Sports: "You'd say Huddersfield, Southampton, Burnley, Leicester are the games you can look at and say there should be four, five more points on the board.
"Then you'd say Manchester United would be having a fantastic season but it's those dropped points combined with what's happening over the road - the fact the City are so many points clear and the style in which they're playing. But it's still better at United than it has been in the past few years.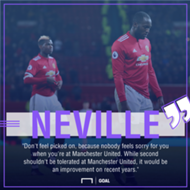 "The problem is that when you've got such big rivals and such big rivals in management terms as Jose and Pep, everything gets amplified. That's the nature of a big club like Manchester United - getting criticism as well as the praise.
"But you have to forget the uncontrollables - don't feel picked on, because nobody feels sorry for you when you're at Manchester United; you have to accept and be tough enough to overcome it.
"They've still got trophies to play for - the FA Cup, the Champions League - and they have a real challenge on to finish second in the league.
"While second shouldn't be tolerated at Manchester United, it would be an improvement on recent years."
Even hanging on to second place promises to be quite a challenge for the Red Devils, with Chelsea just one point back at present and Liverpool three adrift.
Behind them, Tottenham are only six points off United and Arsenal eight, with the battle for top-four finishes once again set to produce a congested sprint to the finish.