A-League
'Scream from the rooftops' - Bosnich calls on Australian football to be heard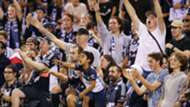 After seeing Melbourne Victory's Terry Antonis injured on a questionable SCG pitch on Saturday, Mark Bosnich very quickly began rallying calls for Australian football to make a stand.
The shocking surface, mainly the result of NRL and Super Rugby games held the week prior, spoiled the Big Blue as it left coaches, players and fans fuming.
In the aftermath, Sydney FC's next scheduled match at the SCG has been moved to Jubilee with Bosnich adamant the Australian football community has a right to demand better and must, in fact, make sure their voices are heard moving forward. 
"I don't think we should stop complaining - we should scream from the rooftops because it seems in this current environment that unless you scream from the rooftops and make a point of it people just don't listen," Bosnich said on Fox Sports' A-League Hour.
"The ultimate thing is for the clubs to have their own stadiums, but the clubs aren't going to invest another cent, and rightfully so until they fully control what they're investing in.
"Going forward we're going to have to become a little more unified and make sure our voices are heard."
Former Adelaide United coach John Kosmina meanwhile called on the government to show support for the round ball game.
After the Sky Blues were left to use the SCG on Saturday, Kosmina wants to see more funding put into football and relevant infrastructure to support the A-League.
"There is a football community that needs to be supported by the government," Kosmina said.
"How many stand-alone stadiums do we have in the A-league?"