Transfers
'Schmeichel to Man Utd would be a dream' - Leicester keeper's legendary father talks up move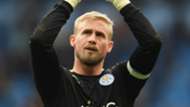 Manchester United legend Peter Schmeichel admits it "would be a dream" to see his son Kasper follow in his footsteps at Old Trafford.
The Red Devils have been linked with a move for Leicester City's Premier League title-winning goalkeeper amid speculation regarding David de Gea's future.
Talk of a transfer to Real Madrid for the Spain international has eased of late, with Madrid president Florentino Perez suggesting that his club are no longer interested in the long-term target.
'Rashford wanted to be like Pirlo'
It could, however, be that Schmeichel gets the chance to join the Red Devils are some stage, with his father admitting that such an opportunity would be too good to turn down.
A man who spent eight years at United, capturing five Premier League crowns and the Champions League, told talkSPORT when asked if he would like to see Kasper make a move: "It would be a dream.
"For me, trying to be as neutral and unbiased and not like a father, I think he has done well enough to convince everybody that he can play at the highest level.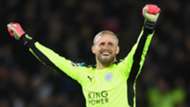 "The doubts were there when he first went into the Premier League over whether he was good enough, but he proved that and in the Champions League last year I thought he did really well. If clubs need a really good goalkeeper, well he is somebody who can be trusted to do that.
"Having said that, I am crazy about Leicester, I am crazy about the owners - they are fantastic and really good for the Premier League. There is no shortage of will and money to make Leicester a top four club, or at least top six, top eight. They are prepared to do that and that is a really interesting environment to play football in.
WATCH: Pogba enjoys 'nutmeg season'
"There is no 'Kasper needs to move' kind of feel at the moment, but if an opportunity like that [moving to United] came around, that would be fantastic."
Kasper Schmeichel has been with Leicester since 2011, helping them to promotion out of the Championship and to a remarkable top-flight title success over the course of 261 appearances.