Santosh Trophy
Santosh Trophy 2018: Satheevan Balan - Lack of promoters and exposure hurting growth of Kerala football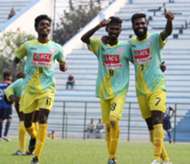 Five-time Santosh Trophy champions Kerala are once again in the limelight in the 2018 edition of the prestigious tournament that has helped produce countless revelations in the form of football players ever since its inception 77 years ago. 
The youngest-ever Kerala team have swept past their opponents in the first three games. Under the tutelage of former Calicut University coach and Indian national team scout Satheevan Balan, Kerala defeated Chandigarh 5-1 in their tournament opener before handing out 6-0 and 3-0 thrashings to Manipur and Maharashtra to advance into the semi-final.
"We selected a very young team that we believed can compete. They proved during the South Zone matches and we qualified. We understood this team was capable to put up a fight against any other team at an all-India level," spoke head coach Satheevan exclusively to Goal. 
"These junior players have done their respective roles very well. The captain (Rahul Raj) is giving them ample support. Initially, we did not think we would win the first three games. In our first game, we did not know much about our opponents. We played attacking football and won. Then we started watching other games and deduced their strengths and prepared."
However, the bold decision to go into the tournament with such a young squad was not an easy decision to make. "It was challenging to select a young squad. If we do not win, everyone will put the blame on me and say that it's because I did not select experienced players. But experience alone is not enough here. 
"I called up all senior, experienced players for the camp and gave them a chance. Some turned up, some of them did not. I observed those who came and chose the players whom I thought could play according to my style and strategies. I saw that in youngsters. I looked at whether they can work hard and perform their roles well."
Satheevan was appointed national team scout under Stephen Constantine in 2015 and the current crop of players playing for him will be hopeful about what is at stake - a key to unlock the door into the national team set-up. 
"I have been given the freedom to scout players from Kerala. I am not officially a scout because I am in charge of the Kerala team. But I have the freedom to pick any player from this tournament and recommend," he mentioned.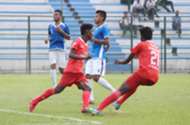 "I have already prepared a list that consists of several players who have featured here and at the University level football tournament."
The likes of Jithin MS, Afdal and Rahul KP have all caught the eye with their excellent displays in the competition so far but Satheevan credits the team as a whole and projects a united front. 
"According to me, everybody is equal. Goalkeeping (Midhun V) is one of the most important areas of the team. He saves the team when everyone else fails. It is not just about the brilliance of an individual but their qualities are helping the team be it Jithin MS, Jithin G, Afdal or Rahul KP. They are all involved."
"The backline consists of experienced players and they are doing well not to concede. So they are also heroes. It is all about unity and playing as a team."
The Kerala head coach also propounded the theory of lack of exposure to Kerala footballers compared to the ones from the north-eastern region of the country.
"Look at the squads of any team, we can see that Kerala-born players are doing well. Even in the Indian team, Anas Edathodika is the best defender. In the junior team, there is KP Rahul. But the number of players from Kerala is low as compared to the north-east region. That is due to lack of promoters and exposure," posited Satheevan.
"The north-east players are getting the chance to go to any football school in India but Kerala players are not getting that chance. Those are the players who get into the national team."
Kerala, chasing their first title since 2004, are up against defending champions West Bengal in their final group game on March 27. "We are playing to be top of the group. The match against the home team will be difficult but we want to win," concluded the confident Malayali coach.