World Cup
Salcedo's titanic effort, fans' Osorio love & more: Five things from Mexico's win over Korea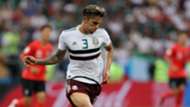 Mexico made it two wins in two World Cup matches with a 2-1 victory over South Korea on Saturday. Despite having six points in the group, though, passage to the knockout stages still isn't secured .
Manager Juan Carlos Osorio was pleased with his team's showing once again, but now has a nervous few days. There is still the potential the hard work he and his team have put in to top Germany and Korea could go to waste if El Tri can't manage a point against Sweden on Wednesday.
Get the point, though, and it's mission accomplished. Mexico will top the group and head to St. Petersburg to face the second-place team from Group E. Before we start looking ahead, though, let's look back at five things that stood out in the triumph in Rostov Arena:
---
Salcedo puts in titanic effort
---
With goals from Carlos Vela and Javier "Chicharito" Hernandez and another excellent performance from 22-year-old Hirving Lozano, the attackers stole the plaudits after Saturday's match . The defense, particularly Carlos Salcedo, deserves more praise.
Salcedo slid over from right back to right center back, where he's played for much of his career. He had an excellent night, keeping Son Heung-min largely contained until the Tottenham star's stunning late goal from outside the box. Between five blocked shots and five interceptions, "El Titan" intervened on 10 of Korea's attacking chances. The diving block to stop a shot from Son in the 22nd minute is the moment that sticks in the mind, but the former Real Salt Lake and Chivas player had a number of other critical stops.
Just before the halftime break, he denied a cross that came into the box from the right-hand side of Korea attack. When Korea recycled the ball put in a cross in from the other side, Salcedo again was there to boot it away and deny the attacker the ball. Two crosses stopped in the same minute. He closed it out with another blocked shot in first half stoppage time.
Not only was he a machine at the back, he also took on the role asked of center backs in Osorio's system, putting long balls over the top to the other side of the field in hopes of finding an attacker in space who can quickly create a chance. Salcedo ended the night with 90 percent of his passes completed. The passes he missed on - a second-minute ball over the top looking for Chicharito, an 18th-minute cross-field ball for Lozano, a 78th-minute bomb across the back line to Jesus Gallardo - are excusable. He was playing risky balls that could've led to big rewards.
It was an impressive night in general, even more so when you consider he had a different role against Germany on the right. The 24-year-old said he was just carrying out Osorio's plan.
"That's been helping us a lot because when one of us makes a mistake we have the humility to accept that, to be a better player and a better person," he said of Osorio's coaching style. "I think it's been a lot of help."
After continued playing time at Frankfurt this year, Salcedo is surpassing Hector Moreno as Mexico's best defender. He may already be the team's best center back, and the effort he put in against Korea may convince Osorio he needs to keep Salcedo at right center back and figure out another option at right back to best take advantage of Salcedo's defending and passing.
---
From hatred to hymns
---

"El Profe Osorio" the Rostov Arena sang. Mexico fans' relationship with the national team's Colombian manager has been ... let's call it strained. It was earlier this month in the Estadio Azteca that fans were chanting "Fuera Osorio" demanding the manager be sacked after a 1-0 win against Scotland.
The rest of the world seems stymied. Why would you not like Osorio? Mexico fans have their reasons - sort of. Past failures have hurt, and there's no doubt Osorio is unconventional. But he also approaches football with humility, speaking about respect, dropping bits of motivation in the news conference, and drawing up game plans to beat Germany and Korea in the tournament.
The about-face was welcomed by players, even if Osorio himself seemed well-aware that the supporters could turn on him once again should things go south as the World Cup progresses.
"It moved me, and I imagine it did the same for our players, my players, because there are very few groups of fans who show this incredible passion for their national team," Osorio said about the atmosphere in general. "It will be a good memory, but as always soccer is about opinions, it's very subjective. It constantly is changing and for a lot of people the analysis is worth more than the result. That's why the easiest thing is to just keep preparing ourselves the best way possible, not get into rowdy victory celebrations but rather keep our humility intact."
Still, the players who have consistently come out in support of the manager were pleased to hear the fans supporting him.
"Well, it's tough, but we're thankful to the people who truly have been with 'the mister' since day one. It's great," Salcedo said. "Those who haven't, well, there are always times to change your mind in life. I think the team is doing well, and it's deserved, but we don't want to say anything bad or that we've done anything big or anything, just that we've carried out the manager's plan and we're going to keep doing that against Sweden."
How the next game goes will indeed determine what the fans are singing about the manager.
---
Ochoa the sure stopper
---

After four saves against Korea on Saturday, Guillermo Ochoa's save tally stands at 14. That's more than any other goalkeeper has made at this World Cup heading into Sunday's matches. "Memo" always brings his best on the grandest stage. His incredible day against Brazil still sticks in the mind of many Mexico fans - with a lesser keeper surely unable to keep a clean sheet against the barrage.
In his first major tournament as a national team manager, Osorio rotated out his goalkeepers, playing three different goalkeepers in the Copa America Centenario group stages. Now, there's no question who the No.1 is. Jesus Corona is a capable backup, but the job is Ochoa's. The goalkeeper is benefiting from the experience he's had in the past as El Tri's starter at a World Cup and also from the lessons he's learned over a long career.
"Soccer pushes you day after day. Soccer doesn't give you time to relax," Ochoa said. "In these moments, I'm trying to enjoy my day to day, and I think you see it with more composure and maturity on and off the field."
In a team that doesn't have a set back four and has players playing in positions they may not play at the club level, the communication and level of tranquility the veteran provides is even more valuable for Mexico. 
---
Rafa regresses
---

Rafa Marquez, who really is playing at the World Cup despite being 39 years old, came in against Germany and was totally serviceable. With Andres Guardado coming off an injury that allowed him to play just one of El Tri's pre-World Cup friendly matches, it wasn't a huge surprise to see Marquez back in as a substitute Saturday.
The results left plenty to be desired, though. In the 75th minute, Marquez fired a horrendous back pass toward Ochoa that was pounced upon by a Korea attacker and led to a frantic save by Ochoa as other Mexico defenders sprinted to get back. Marquez took much better care of the ball after the gaffe, but the play harkened back to his poor effort against Denmark . If the Germany game was reason to believe that Marquez can be part of the depth Mexico needs to make a deep World Cup run, the game against Korea was just enough evidence that he can't.
Getting Guardado back to a place where he could play 90 minutes would be the ideal, but it's unclear if that can happen - whether Osorio is bringing him off as a tactical move or to keep him fresh or if he can't go the full 90.
Marquez, who also remains under sanctions by the U.S. Treasury Department that were recently reviewed by the New York Times and other news outlets, declined to speak to reporters after the match.
---
No resting on laurels
---
With Germany's win over Sweden, Mexico needs to get a result from Wednesday's match with elimination possible should the North Americans lose, Germany win and goal difference to work against them. Of course, Ochoa says the Germany win changes nothing . Guardado says the wins over Germany and Korea aren't worth anything if El Tri can't advance .
The team always has said it's going game by game but is setting its sights beyond simply getting out of the group or getting to the fifth game. After a strong start but with little margin of error, the players are saying the same.
"I think we, when we started this adventure, the World Cup, what we achieved in qualification to get here, I think it was a great job. After that, we've said among ourselves many times, why don't we aspire to something bigger?" midfielder Miguel Layun said. "We're not guaranteed anything because we're dreaming of something, but it doesn't take anything away either."
The leadership core of Guardado, Marquez, Ochoa, Layun, Chicharito and others who have been to World Cups clearly have something big planned. Osorio said prior to the game against Korea that the team can't rest on its laurels and simply bask in the glory of beating Germany. It didn't.
Now, as Mexico returns to its Moscow training base, it must once again block out the praise and the success it has had and focus on the match in front of it to make sure this World Cup is a success.