African All Stars
Salah will add bite to Liverpool's attack, says Sami Hyypia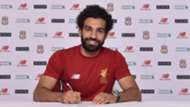 Sami Hyypia believes the arrival of Mohammed Salah will boost Liverpool's attack in 2017/18 English Premier League season.
The Egyptian forward joined the Reds from As Roma this summer in a deal worth £34.3 million, and the former defender says his partnership with Sadio Mane will be a threat to their opposing defenders.
"The signing of Salah, it's an offensive move and his strengths are on the offensive side of the game and he will give some pace in the front as well – and when I think that he and Mane are in the same side," Hyypia told 5times.
"The back four of the opposition can be a little bit worried about their pace and everything, so it's an offensive move."
He added that the 25-year-old has improved a lot compared to when he was at Chelsea a few years back.
"I think Salah has developed from the Chelsea days that Chelsea maybe couldn't get his level right and he was on loan at a few other clubs to get experience,'' he continued.
"I think he's a better player than a few years ago at Chelsea so definitely strengthens the team.
"I think we would need to make the squad a little bit bigger as well. Mr Klopp wants us to play with very high tempo and it's very demanding for the players to play the whole season long, two games a week – nobody can do it in that kind of tempo.
"So maybe when the squad is a little bit bigger he can rotate even more and, I think, earlier as well.
"But, he's the manager and he's making the decisions and the rest of us, we only hope that he makes good decisions and we will be at least in the top three next year, because every year you want to improve and, hopefully, we will improve for next year and be in a better position."