Mohamed Salah
Salah PFA Award causes Egyptian Premier League fixtures to be moved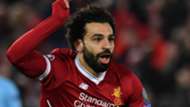 The popularity that Liverpool ace Mohamed Salah enjoys in his home country has once again been highlighted as two big Egyptian Premier League fixtures have been moved due to his nomination for PFA Player of the Season.
With fans wanting to watch Sunday's awards ceremony, at which the 25-year-old is a favourite to claim the gong, the Egyptian Football Association (EFA) decided to shift a couple of major matches in order for supporters all over the country to watch the event.
Al-Ahly's fixture against PetroJet and El-Zamalek's match against Al-Asuity were due to be played at 18:00 and 20:30 respectively on Sunday, but the latter would have clashed with Salah's big moment.
Consequently, the first match has been moved forwards by 15 minutes to allow the latter to be played earlier at 20:00.
EFA president told Egyptian media: "Everyone is pleased that Salah is a candidate for the award. I had no problem at all convincing everyone with the late changes, people wants to see his success and celebrate it."
Al-Ahly have dominated their domestic league this campaign, tying down the title a couple of weeks ago, having won 26 of their 31 fixtures. 
Meanwhile, fans all over the African country are hopeful that Salah can lead their side to glory at World Cup 2018. 
The forward has notched 40 goals in all competitions for Liverpool this term, while he has 33 in 57 outings for his national team.