Pahang
Safuwan's late goal gives Pahang hope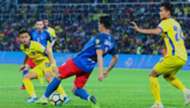 It's all square between Pahang and Johor Darul Ta'zim after the completion of the first leg of the 2018 Malaysia Cup quarterfinal at Darul Makmur Stadium on Sunday. The 1-1 draw gives JDT a slight advantage heading into the return leg this weekend, as they have a vital away goal in their favour.
As expected, Hazwan Bakri made his way into the starting line-up in place of the injured Fernando Marquez and the former played a pivotal role in the creation of the opening goal of the match. Laying off a pass perfectly onto the path of Gonzalo Cabrera, Hazwan set up his compatriot to slam home from the edge of the box.
Pahang tried to make a comeback and many a times, forced Farizal Marlias to come off his line as The Elephants continually break through JDT's defence that saw the return of Marcos Antonio into the mix. 
The equaliser for the home team finally came in deep into added time in the second half when Muslim Ahmad's lofted an outstanding pass for Safuwan Baharudin to nod in between Farizal and Aidil Zafuan.
After the match, JDT's manager Luciano Figueroa was understandably frustrated with the concession of the late goal but is still picking the positives from the match, particularly with the crucial away goal that Cabrera scored early in the second half.
"Pahang managed to score in the 92nd minute. It was definitely not a good thing for us. We are not happy with the goal. However we must remember and be focused that we still have one more important match at home."
"What I can say is that it was quite a difficult match. We made a mistake in the final minutes that gave the opportunity to the opponents to score the goal. Yet we still managed to bring home an away goal.
"We will also try to fix all the mistakes we made and try to win the match at Larkin on 29 September. With the amount of time we have, I hope we can fix all of it and advance to the semi-finals," said Figueora after the match.
The second leg between the two teams will be played on Saturday 29 September at Tan Sri Dato Hj Hassan Yunos Stadium where Pahang came away with a 0-3 win the last they met in a cup knockout match.
Follow Goal Malaysia on Instagram