Malaysia
Safawi ready to put his claim for a starting spot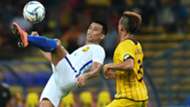 Six players from that squad has been called-up to the team that will face Hong Kong in Tuesday's Asian Cup qualifiers. Adam Nor Azlin, Matthew Davies, Nor Azam Azih, Syamer Kutty Abba, Safawi Rasid and Ifwat Akmal were rewarded for their sterling work during the tournament as well as prior showings for the age-group side and will now fight for their place in the senior team.
Davies and Nor Azam was in the first squad that Vingada selected back in June to face Lebanon but neither has thus far played for the Portuguese yet. Safawi was also involved in previous senior squad during Datuk Ong Kim Swee's time and has done well to push himself back into recknoning.
The Johor Darul Ta'zim (JDT) player reckons that in due course, more players from the SEA Games squad will progress through to the senior team but for now, is thankful that he is one of the first few to have been given the first opportunity.
"It's not just these six players that were good during the SEA Games, there are others. Maybe it's just my luck that Nelo Vingada trust us six and we will give our best in this qualifier against Hong Kong."
"I have to take the experience and give more than we did during the SEA Games. Hong Kong is an important match and we want a win definitely. Going there early will give us time to get use to the pitch and weather conditions over there," said Safawi after Thursday's training session in Kelana Jaya.
The 20-year-old was one of the standout attackers during the KL SEA Games, proving to be a real goal threat, especially his prowess in striking the ball well from distance. The position that he will be eyeing could be that of Baddrol Bakhtiar, on the right hand side of the front three.
Baddrol has struggled in recent matches for the national team and his place could come under real threat, should Safawi impress over the course of the five days preparations in Hong Kong prior to the match on Tuesday.