Toluca
Rubens Sambueza, Andres Andrade suspended indefinitely by Liga MX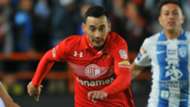 Toluca midfielder Rubens Sambueza and Leon midfielder Andres Andrade will miss an indefinite amount of matches, the Liga MX Disciplinary Committee announced Tuesday.
The committee made the announcement that both players are banned from participating in any competition, with Toluca getting set for a midweek Copa MX round of 16 match against Morelia.
Five Things We Learned from Liga MX
Each player was involved in an incident that caused a long-term injury last weekend, with Sambueza getting sent off for a tackle on Chivas winger Isaac Brizuela and Andrade ending America winger Rentao Ibarra's season with a tackle that broke a bone in the Ecuadorian's leg.
The exact length of each player's suspension will be announced at a later date.
"The committee...determines that players Rubens Sambueza and Andres Andrade are suspended, in a temporary manner, from participating in any division or competition of the Clausura 2017 tournament because they're involved in a process of investigation (because of injury)," a statement read.
The statement continued that both players can appeal the decision.
Gold Cup match schedule announced
Pachuca coach Diego Alonso, who watched as Hirving Lozano left the field on a stretcher after a tackle from Tijuana defender Michael Orozco, said after the game his team wasn't planning to request a review.