Manchester United
Rio Ferdinand: Mourinho is 'laughable' for crying foul over Manchester United criticism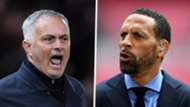 Manchester United manager Jose Mourinho is "laughable" for complaining about criticism of Manchester United's performances, according to former player Rio Ferdinand.
The Red Devils fought back from 2-0 down to defeat Newcastle United 3-2 on Saturday, delighting a buoyant Old Trafford home crowd that had booed their team off at half-time.
Mourinho claimed afterwards that his players were "panicking" early in the game due to a "manhunt" he perceives has been launched against United in recent weeks.
The Premier League side had not won the last four games heading into the clash with Newcastle and Mourinho said "a lot of wickedness" had been said in criticism.
But Ferdinand, who played for United from 2002 to 2014, lambasted the former Chelsea and Real Madrid manager for bemoaning criticism that he believes is perfectly valid.
"I don't know where 'wickedness' and 'manhunt' come from," he told BT Sport, sat alongside fellow United legend Paul Scholes. "I don't know what he's talking about.
"Because if you see something on the football pitch, you talk about it. He's the Manchester United manager. Man Utd's manager doesn't go unnoticed - win, lose or draw. There's going to be scrutiny.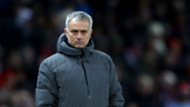 "When you sign up to become Man Utd manager, you do not sign up to have it all your own way. Especially if things are going wrong.
"If things are going wrong, you're going to be under intense scrutiny, that comes with this job. That's in the small print somewhere.
"We're not sitting here wanting Man Utd to do bad, we want Man Utd to perform like they did in the second half.
"And if Mourinho can come out and say I've seen that type of performance – that hunger, that desire, that commitment that he's talking about – many other times this season, then he'd be wrong. He'd be lying to say that. It hasn't been there at all.
"What are we meant to say? Something else? Are we meant to say, 'oh it's been good, it's been OK, he's all right, he's going to get through it'?
"You say what you see, you can't expect anything different. And to sit and moan and [say] 'oh they're hunting me' and 'it's wickedness' … I find it laughable, I was sitting here half laughing at that."
Manchester United will be placed eighth in the Premier League table heading into the two-week international break, with title contenders Manchester City, Liverpool, Chelsea and Arsenal ahead of them with a game in hand heading into Sunday.