Segunda División
Richard Boateng hoping to make an impact in Spanish Segunda Division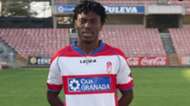 Real Oviedo new signing Richard Boateng says he will work hard in order to make an impact in the Spanish Segunda Division after completing a move from UD Melila last week.
The 25-year-old, who scored 15 goals in all competitions last season, believes he can at least match his previous performance to help Oviedo in their bid to win qualification to La Liga next season.
"I'm ready to make an impact. It's a matter of working and giving my best for the club to achieve or improve what I did previously," Boateng told his club's website.
"With good work and attitude, you can win any supporters so I'm ready to play here because it's the opportunity I've really been waiting for. I arrived in Spain very young, I had the chance to play first [with Granada] but I had no continuity.
"I had colleagues who later played in second or first division and they were not better than me. I think I'm ready for the league and will try to get the best out of myself and I'm for what the coach asks me to do," he added.
Richard is the younger brother of former Ghana international Derek Boateng who spent the majority of his prime days also in Spain.