Transfers
Real Madrid stars excited at prospect of Hazard signing amid Chelsea uncertainty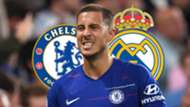 Eden Hazard's comments regarding a possible move to Real Madrid have been well received by those already at the Santiago Bernabeu, with Goal understanding that the Chelsea forward's transfer hints have excited star turns in the Spanish capital.
The Blancos find themselves in a position where inspiration is being sought from somewhere, with a testing start to the 2018-19 campaign seeing them currently wedged in a four-match winless run which has seen them fail to find the target.
Julen Lopetegui or one of those currently at his disposal would be the preferred choice to stand up and be counted in an hour of need, but Real will take a collective raising of spirits in any form right now.
Hazard has offered them just that, with a man considered to be performing at an elite level in the Premier League having been flirting with the idea of making a switch to Spain once more.
It is understood that the transfer talk has gone down well within the Madrid squad, with a club already boasting several superstar names on their books forever prepared to swing open their doors to another 'Galactico' addition.
There is a slight sense of surprise that Hazard has been so open in discussions regarding his future, with it rare for players to talk up moves when tied to contracts and caught up in endless rounds of exit speculation.
Those emotions are, however, being countered by pride, with the Blancos delighted to discover that they are held in the highest possible regard by a man performing at the peak of his powers and among the nominees for the 2018 Ballon d'Or.
The comments which have got Real buzzing came on the back of a recent outing for Hazard against Southampton, in which he took his Premier League-leading goal haul for 2018-19 to seven.
The 27-year-old forward said after that showing: "Real Madrid is the best club in the world. I don't want to lie today.
"It is my dream since I was a kid. I was dreaming about this club. We will see. I don't want to talk about this every day. I don't have time, but we will talk about my future soon. I think so. It is also when you have a dream and you want to make it happen."
Hazard followed up that revelation by stating while away on international duty that he believes a transfer to Spain will be required in order for him to get the recognition his form deserves and put him in contention to land the most prestigious of individual prizes.
If that path leaves him to Madrid, then Real are ready to welcome him with open arms.